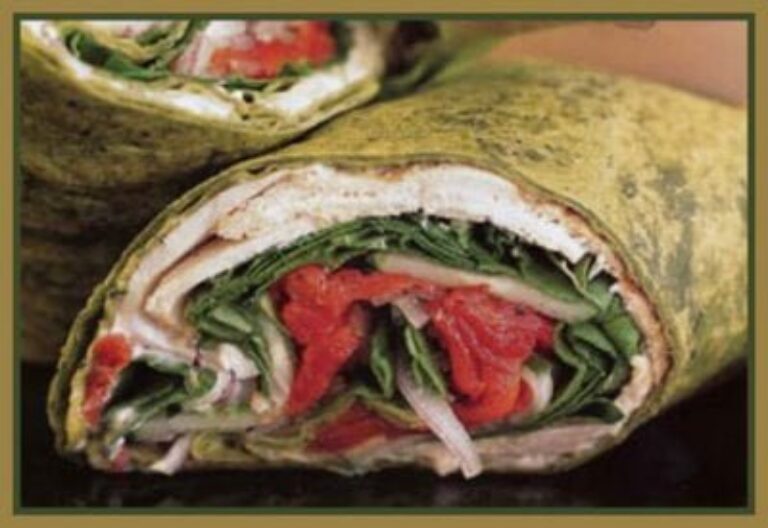 This is a great recipe for those of you who love wraps. It's easy to say that everyone loves a good chicken wrap because they're great, and taste awesome! But when you go out to a restaurant, most chefs will pile on the ingredients so much that the wrap ends up being just as fatty as that greasy cheeseburger on the table next to you. What makes this a great and healthy choice for anyone is that the chicken provides a great source of protein, which is good for helping you maintain muscle as we age. The whole-wheat wrap offers a better carb choice than a white wrap. You won't have to cross the seas for this mediterranean dish.  
***Serves: 4*** Prep Time: 30 minutes Cook Time: 15 minutes  Nutrition Score per serving: (1 wrap) – 442 calories, 12 g fat (24% of calories), 5 g saturated fat, 52 g carbs, 33 g protein, 6 g fiber, 337 mg calcium, 6 mg iron, 1393 mg sodium 
Ingredients:
For the dip
 1/4 cup low-fat mayonnaise 2 oz. crumbled feta cheese 2 tablespoons low-fat sour cream 2 pickled pepperoncini peppers, stems removed, chopped 2 garlic cloves, chopped 2 teaspoons drained capers 1/4 teaspoon dried oregano 1/4 teaspoon marjoram 1/4 teaspoon hot sauce 1/4 teaspoon freshly ground black pepper 1/2 tablespoon freshly chopped parsley  
For the wraps:4 10 to 12-inch spinach-flavored tortillas (can substitute flour tortillas) 2 cups shredded rotisserie chicken 1 cup chopped canned artichoke hearts (drained) 1/2 cup chopped jarred roasted red peppers 1/4 cup chopped jarred pepperoncini peppers 1 cucumber, thinly sliced 1/2 small red onion, sliced 4 cups loosely packed baby spinach leaves, washed and drained  Directions:
To make the dip, place ingredients (mayonnaise to parsley) in a food processor fitted with the metal blade. Process about 1 minute, until thoroughly mixed. (Note: The mixture will not be completely smooth because of the feta.) You will have about &frqac12; cup of dip. If not using immediately, cover and refrigerate for up to one week. 
To make the wraps, warm the tortillas in the oven or microwave to soften, then lay on a flat work surface. Spread one side of each tortilla evenly with about 2 tablespoons of the dip. Place ½ cup of the shredded chicken in the center of each tortilla. Top the chicken with artichoke hearts, roasted red peppers, pepperoncini peppers, cucumber, red onion, and fresh spinach leaves, dividing evenly between the four tortillas. Fold the sides of each tortilla toward the center over the filling. Start at the bottom, roll away from you, like a log, pressing the rolled portion firmly while rolling and tucking in the sides as you go. Cut in half and serve.