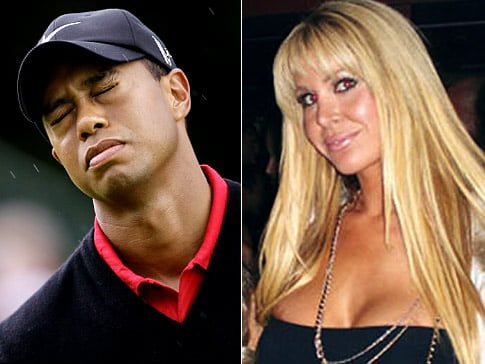 NyNews: Tiger Woods was into threesomes and shelled out more than $60,000 to cat around with high-priced hookers, a Hollywood madam claimed Thursday.
"One of his favorites was Loredana Jolie," Michelle Braun told the Daily News, describing the gorgeous blond as a Playboy model from Sicily who's been living in New York since age 14.
"She's a stunning girl," said Braun. "He went out with her four or five times. She took part in group sex. They met up in 2006 or early 2007. I'd say he paid $15,000 for her."
Woods "had a pretty big appetite for women" added Braun, as the world famous athlete's list of extramarital "transgressions" continues to grow.
"He was rarely with just one girl. He usually wanted more. He liked three-ways," she said.
Braun, whose escort service was closed due to legal troubles, said two of Woods' other playmates were porn star Holly Sampson and onetime trashy lingerie model Jamie Jungers.
Braun contended Woods would drop $30,000 to $40,000 a weekend for his liaisons and that he met up with the women in cities where he was playing tournaments.
"He would request the college-cutie, girls-next-door look," she said.
Braun also said the girls marveled at the golf champ's endurance.
"He could go for days," she said. "He'd pay a flat rate for an evening, but an evening would usually be extended. The girls would talk about his stamina."
The girls all thought Woods was a "real gentleman" and a good lover, Braun added.
"He'd shower them with gifts, he was very polite and he was amazing in bed … very sensual and well-endowed."
Woods and most of her celebrity clients always were "smart enough" to pay in cash, Braun said, adding the golf star, in particular, "liked to communicate by text message."
"Most of the girls understood it was a business relationship," Braun said. "I've never known a girl to fall in love with a client. I've seen them develop relationships with men who were available. But Tiger made it clear this was a good time and his wife would always be in the picture."
Jungers, 26, who has said she was in love with Woods, also is going public about their hot-sheets affair, boasting that their secret sex life was GRREAT!
Jungers, who is scheduled to appear this morning on NBC's "Today" show on "Dateline" tonight, refutes the claim that Woods paid her for sex, swearing, "I have nothing to do with prostitution."
"I mean, we had – I felt like we had a lot – or I had a lot of feelings toward him," Jungers admits. "It wasn't just a sexual situation . . . I loved him.