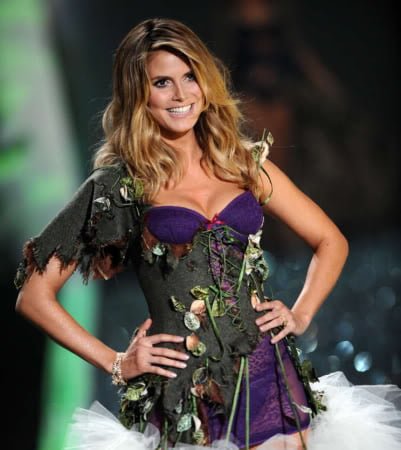 German supermodel Heidi Klum made a surprise trip down the catwalk at the Victoria's Secret Fashion Show in New York City Thursday.
Klum, 36, who gave birth to her fourth child just six weeks ago, had
only been tapped to host the show but ultimately decided to walk the
runway at last night's showing, much to the delight of the crowd.
Wearing a corset and full skirt, the new mom smiled as she slowly
took the runway for the surprise appearance. The event was the hottest ticket
in the Big Apple, as the beautiful Victoria's Secret Angels showed off
elegant lingerie. The audience was packed with celebrities including Dr
Dre and The Black Eyed Peas.
The 2009 Victoria's Secret Fashion Show will air Dec. 1 @ 9PM on CBS.
Source: PopCrunch