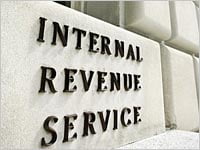 As April 15 creeps closer, many taxpayers are focusing on refunds. While those taxpayers rush to file their returns on or before Tax Day, the tax deadline takes on a whole other meaning for others. April 15 is not only Tax Day for the 2009 tax year — it's the last day to claim a refund for the 2006 tax year.
The Internal Revenue Service may be holding more than $1.3 billion in refunds for taxpayers who failed to claim them in 2006. More than 1.4 million taxpayers are due a refund, the IRS said, with the median refund totaling $604.
To claim a refund, a taxpayer must file a tax return for 2006 by April 15, 2010. After that time, the three-year statute of limitations runs out — and you're out of luck. The US government gets to keep the money.
The three years to claim your refund starts as of the date of filing (if you previously filed a return) or April 15 following your tax year. In the case of those 2006 returns, the clock began to tick on April 15, 2007.
Of course, all of the old rules still apply. If you have outstanding tax liabilities or if you haven't filed your tax returns for 2007 and 2008, you won't receive your refund. Instead, it will be applied toward any obligations. Additionally, your refund may be applied to any other outstanding federal obligations you may have, such as unpaid child support or past due student loans.
Don't assume that you aren't entitled to a refund because you didn't have any withholding. Taxpayers who did not have withholding may still receive a refund due to the one-time telephone excise credit and the earned income tax credit (EITC).
Available for the 2006 tax year only, the special telephone excise tax refund applied to long-distance excise taxes paid on phone service (either as a land line or cell phone service) billed from March 2003 through July 2006. If you believe your actual amount of tax paid exceeds the standard amounts, you can make that calculation on your return. For more information, check out the IRS Web site.
You may also be eligible to claim the EITC, generally meant for low- to middle-income taxpayers. The EITC can result in a refund of taxes paid via withholding — and in some cases, you may be entitled to more than you paid. The thresholds for 2006 were $38,348 for those taxpayers with two or more children, $34,001 for taxpayers with one child, and $14,120 for those qualifying taxpayers with no children.
Nearly one-third of all refunds are earmarked for taxpayers in three states: California, Florida and Texas. However, taxpayers in New Hampshire, Alaska, and Wyoming will claim the most dollars per taxpayer. Additionally, nearly 5,000 taxpayers in the armed forces are due a refund.
If you think you qualify for a refund, you can run the numbers and see. You can file using a 2006 form 1040 (downloads as a pdf) or a 2006 form 1040-EZ (downloads as a pdf), depending on your circumstances.
What are you waiting for? There's no penalty for filing a late return if you qualify for a refund. And you might walk away with a few more dollars in your pocket.