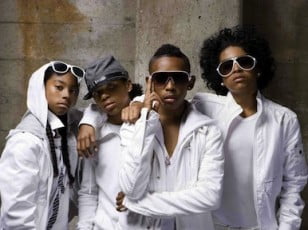 Janet Jackson has chosen teen super group Mindless Behavior to join her as sole support on 12 dates of her North American NUMBER ONES: Up Close & Personal Tour. They will perform with her in Chicago, Toronto, Boston, Uncasville, New York and Washington, DC (see all dates below). Before hitting the road with Janet the group will head overseas for 13 dates in the UK with Jason Derulo. Mindless Behavior's debut single "My Girl" is on YouTube/VEVO and available for purchase on iTunes
"It's exciting to have Mindless Behavior open for me in these cities because they are enriching our global community with their love of music. I first listened to them on You Tube and think they are great. I hope you enjoy these kids as much as I do, they are very talented," said Janet.
"We're so excited to be joining someone as legendary as Janet Jackson on her tour, we can't wait to perform on her stage and show the crowd how to get Mindless!" said Princeton of Mindless Behavior.