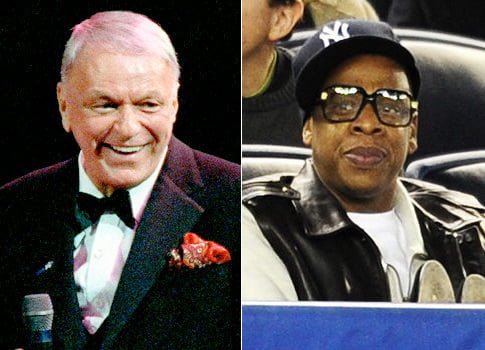 Daily news: Frank or Jay-Z? Jay-Z or Frank?
MSG Network programmers are setting out to answer that question with an online poll and a night that pits Frank Sinatra and Jay-Z in a head-to-head battle over the best New York theme song.
Sinatra's "New York, New York" had been the de facto theme song for all things good in the city until Jay-Z's "Empire State of Mind" hit.
The new song, which features Alicia Keys, became sort of a musical background for the Yankees' championship.
Friday at 10:30 p.m., MSG will re-air "Fuse Presents Jay-Z, Live From Madison Square Garden," a concert that aired live on Sept. 11, 2009. That telecast will be followed by "Frank Sinatra: The Main Event, Live at Madison Square Garden," a classic October 1974 concert.
To help decide the debate, MSG is asking viewers to vote at msg.com/sinatra. The polls will be open until Dec. 7 at noon.
Dots all …
Regis Philbin, who will be taking a break from "Live! With Regis & Kelly" until the start of next year to get a hip replaced, will turn up this week to fill in for Meredeth Vieira on the daytime version of "Who Wants to Be a Millionaire." The appearance was taped earlier this month; it's the first time Regis has guest-hosted the daytime version. This week, "LIve!" executive producer Michael Gelman also sits in as the "expert" contestants can call on for help. The show airs weekdays at 12:30 on WABC/Ch. 7. …
TV Land will air its "10th Annual Merrython," a collection of holiday episodes of classic series, starting Dec. 13 at 6 a.m. and running through Dec. 14 at 6 a.m. Among the shows included in the mix are "Rosanne," The Andy Griffith Show," "The Beverly Hillbillies" and "The Cosby Show." …
Discovery Communications has launched "Be the Future," a multi-platform project and educational effort to spur student learning and careers in the sciences. Among the offerings will be a commercial-free science block on the Science Channel to start in 2010.