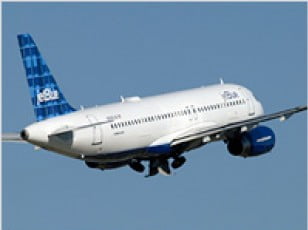 Popular discount airline JetBlue Airways is celebrating its 10th anniversary with a last-minute limited-time only sale that seems too good to be true: $10 for a one-way ticket to a wide variety of U.S. destinations.
All remaining seats on JetBlue flights for May 11th and 12th will be sold for the nominal $10 fare. That includes nonstop flights from busy hubs like Washington, D.C.'s Dulles International Airport and New York's JFK International Airport to hotspots like Chicago and Los Angeles. An extra $10 fare applies for each leg of connecting flights.
JetBlue's 10th anniversary deal is only available online and expires at 11:59 p.m. ET today, May 10th. So if you want to grab that $10 fare, act fast and book your flight here.
The promotion comes as another installment of the airline's year-long celebration. Previously, the company has given away 1,000 round trip tickets to people on the streets of major cities, and offered other last-minute fares. JetBlue has promised to keep up the savings, with monthly offers all year long. Those looking to keep abreast any breaking deals can follow the airline on Twitter.
The airline has not released the number of seats available at the sale rates, but most of the fares originate from New York's JFK Airport, the carrier's home base.
The East Coast–based airline started its operations in early 2000 with service from JFK to Buffalo, NY and Fort Lauderdale, FL. Thanks to discount prices and a savvy (and often sarcastic) marketing campaign, the low-fare airline has grown in popularity, expanding its service to 61 destinations in 11 countries, the majority of which are in the U.S. and the Caribbean islands.