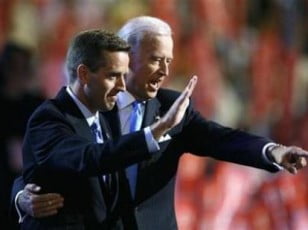 The White House says Vice President Joe Biden's son is being treated at a Delaware hospital.
In a statement Tuesday, the White House says Delaware Attorney General Beau Biden is awake and alert and communicating with his parents and wife, who are with him.
The 41-year-old had considered running for the Senate seat his father held before becoming vice president, but ultimately decided against it. He became attorney general in 2007 and previously served at the U.S. Justice Department.
In 2009, the younger Biden returned from a yearlong deployment to Iraq with his Army National Guard unit.
The White House provided no information on Beau Biden's symptoms or possible illness. He is hospitalized at Christiana Hospital in Newark.