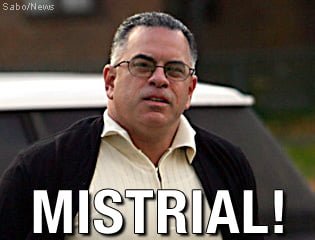 Ny Daily: A federal judge, faced with a hopelessly deadlocked jury, declared a mistrial Tuesday in the racketeering case against John A. (Junior) Gotti.
The jury, in its 11th fruitless day of deliberations, sent out its second note in three days announcing it was at a stalemate on all three charges against the now-Teflon Son.
Federal Judge Kevin Castel then announced a mistrial in the 11-week old case, yet another stinging defeat for the government in its relentless pursuit of the second-generation mob boss.
Gotti wept and his family applauded as the decision was announced. Defense lawyer Charles Carnesi put his hand on Gotti's back.
Gotti was expected to walk out of court following an afternoon bail hearing – his first taste of freedom since August 2008, when he was arrested on the latest indictment.
The former Gambino boss faced life in prison if convicted.
The panel announced it was hung after returning from a five-day Thanksgiving weekend vacation.
It marked their fourth failed prosecution of Gotti in five years, all ending with hung juries and mistrials.
This jury deliberated longer than the first three, but ultimately reached the same conclusion.
The mistrial boosted the Teflon Son – who spent six years in prison on an earlier conviction – past his dad in courtroom successes.
John (Dapper Don) Gotti beat three cases before he was convicted and jailed for life on murder and racketeering charges.
The one-time Gambino family boss was charged with racketeering and a pair of drug murders.
The divided jury sent out its first deadlock note Nov. 19, prompting the judge to give them a three-day weekend.
They returned Nov. 23, but found themselves split again a day later.
Castel read the jury an "Allen charge," a last-ditch legal effort to urge a jury verdict before a mistrial.
Gotti, 45, used the same defense that worked in three prior cases: He quit the mob in 1999. The retirement defense split the three prior panels, and the fourth time proved a charm, too.
Gotti's fourth racketeering trial in five years began Sept. 21, with the anonymous jurors listening to a pair of familiar refrains.
Prosecutors described him as a ruthless mob boss responsible for murders, mayhem and drug dealing.
The defense, as it did successfully three previous times, insisted Gotti retired from "The Life" a decade ago.
Emotions ran high through the trial, which made as much news through courtroom theatrics as testimony. There were angry outbursts by Gotti and his mother, along with ugly backbiting among the jurors.
Junior exploded at his former buddy John Alite, a drug dealer turned mob informer who spent more than a week testifying against Gotti.
"You got something to say to me?" the star government witness barked at Gotti as he left the witness stand last month.
"You fag!" Gotti shouted back. "Did I kill little girls? You're a punk. You're a dog. You're a dog. You always were a dog your whole life, you punk dog."
Alite described his former best man as hot-tempered, violent and responsible for eight murders – including one where he gutted the victim with a knife inside a Queens bar.
He also infuriated the Gottis by repeating his claim of a romance with Junior's sister Victoria, claiming she turned to him after beatings inflicted by her ex-husband.
As the defense wrapped up its case, mob matriarch Victoria Gotti unleashed a vulgar tirade at Federal Judge Kevin Castel over his decision to cut loose a pair of feuding jurors.
One of the two, Juror 7, was widely seen as favoring the defense.
"F—– animals!" the seething mother screamed. " … "The f—— gangsters! You son of a bitches! Put your own sons in there. You bastards!"
The jury's infighting – including an anonymous letter of complaint sent by one juror to the judge – became a recurring theme during the trial.