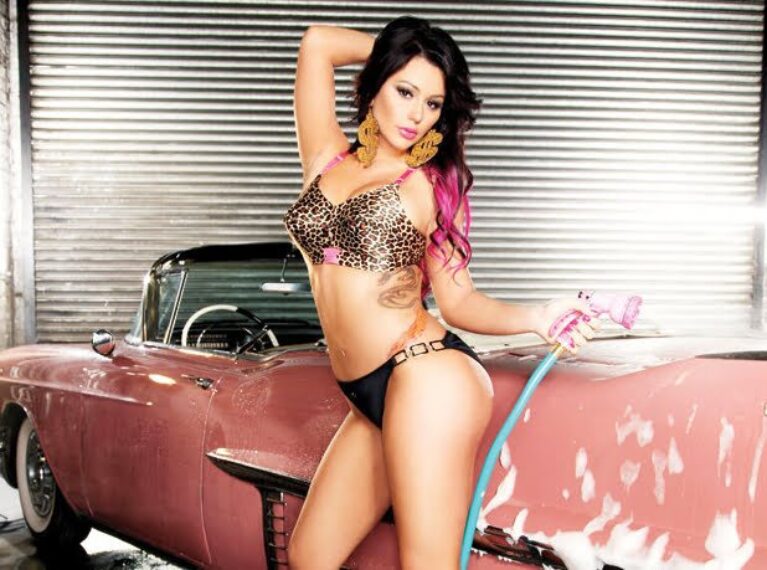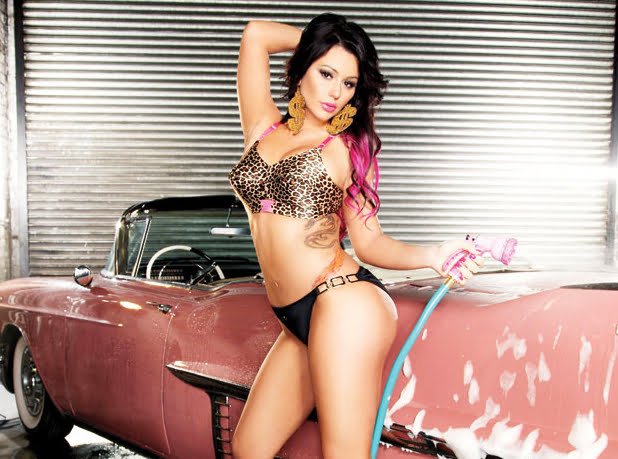 We weren't kidding when we said fierce. We all know that Jwoww has a dragon tattoo on her torso (you can see it in the picture on the left), but now she's got something new to complement it. She's stripped down for a new spread in Inked magazine to show off her new skin art — a huge tiger on her thigh, which is visible in the photograph on the right. 
That is, if you can even focus on it. It's a little hard with the Jersey Shore star hitting those classic pinup shots in next to nothing while washing a pink Cadillac. And we haven't missed the hot pink tips in her hair, too. She's also talking about her tattoos, and explaining what they mean to her, saying, "My dragon and tiger were both designed by my college advisor, Jon Squid. He was an art student but he's also been tattooing for 10 years.
He's at Twin Moon Tattoo in Queens, New York. The dragon is something I have wanted since I was a kid. I drew one when I was 12 or 13, showed my dad, and told him that I wanted it tattooed on me. He told me to wait 10 years.
Growing up I was always doodling dragons, and I waited until I was 21 to get the dragon. Then I wanted something on the other side of my body to complement the dragon, and Squid told me that the dragon and tiger symbolize good versus evil, like a yin and yang." That's why they're also on different sides of her body, as she added, "Yes, and placement for me is big because I want to be able to show my tattoos off when I want to, and I want to be able to cover them when I don't want to show them."