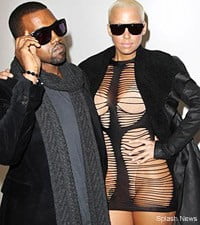 Kanye West kicked off the launch of his new blog with a semi-nude picture of his girlfriend, model, Amber Rose. The photo, which was the lead picture on the site, shows the Philadelphia native wearing workout gear including a small band over her breasts, wristbands, kneepads but no bottoms. The interpretive photo shows Rose's silhouette while she screams into an unplugged microphone.
Although West's previous blog is still live, there's no word yet on if he plans on shutting it down. Instead of doing interviews, the Grammy winner usually takes to his blog to address the media, dispel rumors, explain his actions, or comment on whatever is on his mind — and in all capital letters. His last post simply reads, "It's Up," in regards to the new site.
West announced that he would start a new blog last month but was mum on the details. In a stark contrast the new blog, has a white background, while the first blog is black. However, both sites showcase West's artistic interests as he posts photographs, paintings, and clothing by different artists. Fans can also comment on his postings.