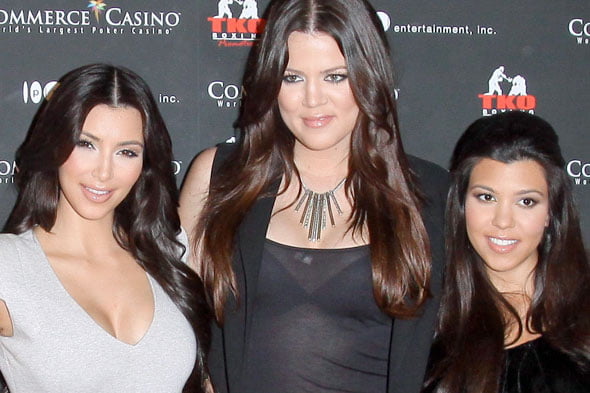 Ever wonder how celebs who have to wear buckets of makeup for on-air time or personal appearances keep either breakouts or serious dryness at bay? They usually have a routine that they stick to and likely a coterie of estheticians and dermatologists who tend to them as well. In the case of the Kardashian gals — Kim, Khloe and Kourtney — the PerfectSkin three-step system is the answer.
While the products haven't officially launched yet, the system is touted to meet the needs of all three women, despite their different skin types. According to scientific researcher and dermatological expert Dr. Ron DiSalvo, Senior Scientist at Perfect Science Labs, the developers of PerfectSkin, "As women who are constantly in the spotlight and juggling hectic schedules, the Kardashian sisters need a skin care system that's as simple, as it is effective."
With the actual types of products and the active ingredients still under wraps, we can only speculate that the ladies wouldn't lend their names to just any old skincare company. "I have literally tried everything out there and nothing even comes close to PerfectSkin, " says Kim Kardashian. "It's easier and more effective than anything else I've tried, and they are the only skin care products I use."
So when will the Kardashians' skincare secrets be revealed? We asked the brand's publicist for more information and were thwarted with a "wait and see" response. And there's no PerfectSkin website. After a little of our own digging on Dr. Di Salvo, we found that he has a long history in the beauty industry, at companies including Redken and John Paul Mitchell as well as a skincare company called Amaza that seems to specialize in anti-aging products.
From the little we know about the PerfectSkin three-step regimen, we're hedging our bets on it being a Proactive type of project, maybe even involving an infomercial.
What we do know for sure is that all will be revealed sometime this spring, so stay tuned.
What do you think it'll be? Leave a comment below and tell us. And, the Kardashian girls are everywhere these days. Do you think we'll ever get sick of them?
Stylelist