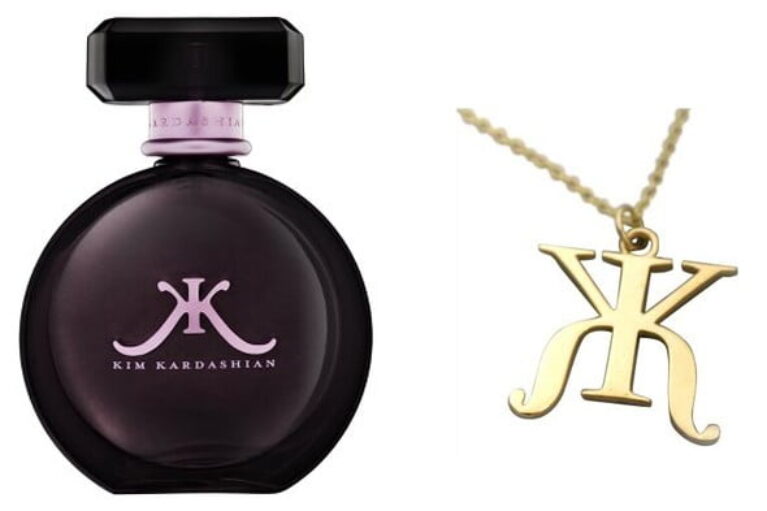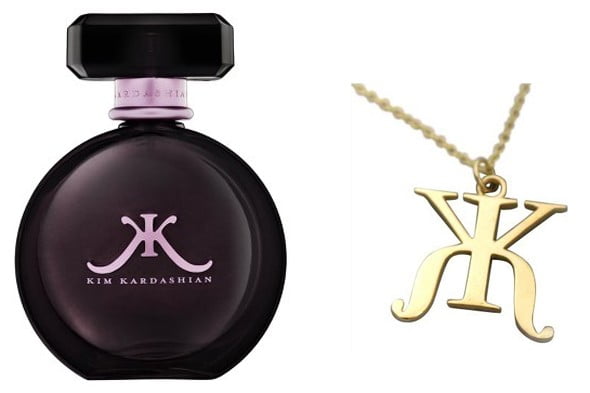 Kim Kardashian in Hot Water Over Fragrance Logo: Kim Kardashian is one busy woman. She juggles multiple businesses, endorsements, and public appearances on a daily basis. Her latest baby? The Kim Kardashian fragrance, which hit Sephora stores this month. There's just one problem: The perfume's logo may not have been Kim's idea.
The double K logo on Kim's fragrance bottles bears a striking resemblance to the double K logo of a jewelry line called Korcula. In fact, back in 2008, Korcula creator Lindley Bertin sent Kardashian one of the gold necklaces shown above as a gift. Bertin thought Kardashian would love the fact that the Korcula brand's logo included her initials, and she was right: Kim was seen wearing the necklace, and Bertin was flattered.
That is, of course, until she saw Kardashian's perfume bottes come out this year. Bertin told StyleList, "I am disappointed that someone would take something from me that I put so much time, energy, and money into creating." The designer feels that the Kardashian fragrance logo is a rip-off of her own, and has enlisted the help of mega-lawyer David Boies to resolve the matter.
We're keeping our fingers crossed that everything works out peacefully!