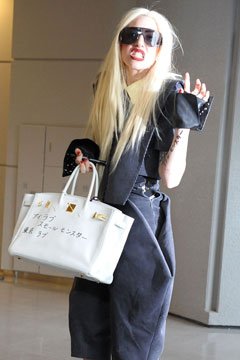 Hermès fans, avert your eyes.
Lady Gaga has pulled some jaw-dropping stunts during her rise to fame, but the over-the-top singer's latest sartorial statement (literally) is enough to send Birkin devotee Victoria Beckham into shock.
Upon arriving at the New Tokyo International Airport in Japan for her world tour, Gaga flashed a dreamy white Hermès Birkin bag… which she'd (shock! horror!) marked up with Japanese characters that translated to "I love little monster, Tokyo love," the Daily Mail reports.
Graffiting your own multi-thousand-dollar handbag? Now that's gangsta.
The message — also written in Japanese Katakana on the star's arm — was a shout-out to her fans, whom she often dubs as "little monsters," according to the paper.
What, was a Hallmark card too predictable?
As if butchering a really expensive designer handbag wasn't dramatic enough, Gaga also sported a bizarre structured suit, leather gloves, long blonde locks and sky-high patent lace-up boots.
Our condolences to the people waiting behind her in line at the security checkpoint.
While we're sure her fans appreciated the declaration of love, maybe next time she can spare the Birkin in favor of a few bouquets?