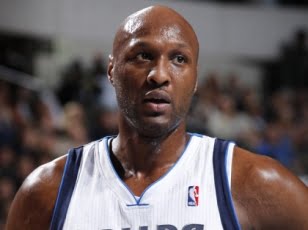 After rumors of a possible trade to New Orleans, then a actual trade to the Dallas Mavericks, where he was subsequently demoted to the Developmental League for about a week, Lamar Odom and the Dallas Mavericks have parted ways.
When asked about the situation, the teams General Manager, Donnie Nelson said this:
"The timing is what it is. These things never come at the best of times, so we felt with the playoff push coming up, it was probably in everyon's interest," Nelson stated.
After 50 games, and with 9 games left in the regular season, Odom has often come under critisism on whether or not his performance had anything to do with feeling like the jilted lover of the Los Angeles Lakers or if he has fallen victim to the Kardashian curse?
His averages of 6.6 points, 4.2 rebounds and 20.5 minutes, summed up Odoms season as a career low performance at best. Many fans and non-fans are wondering if he'll go back to L.A., and if so, will he go back to the Lakers? Probably not. I doubt that neither the Lakers or Lamar want to swallow their pride and egos just to kiss and make up. My guess is that if he goes back to L.A. to play, it would be with the Los Angeles Clippers. Wherever Odom goes, it's going to have to be at a discounted rate after his performance on and off the court this year.