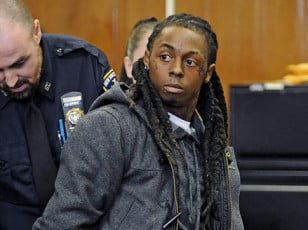 Ny Daily News Reports: Jailed rapper Lil Wayne has to face the music again – without his music.
The rap mega-star was busted yesterday for "music contraband" – a charger and ear phones for a watch that doubled as a digital music player.
"He was found with a charger for an MP3 player and unauthorized earphones," in his Rikers Islan cell, a source said.
Authorities seized the music pieces at 8 a.m. after a prison rat tipped off officers, who found the music contraband in foil and a bag stuffed in Lil Wayne's trash.
A subsequent search found another inmate in the same wing with the accompanying music player, sources said.
The "Lollipop" rapper and the other inmate – will be charged with an infraction for contraband a Correction source said.
Investigators are trying to find out how Lil Wayne got the items. Lil Wayne pleaded guilty to gun charges in October after a semiautomatic pistol was found on his tour bus in 2007.