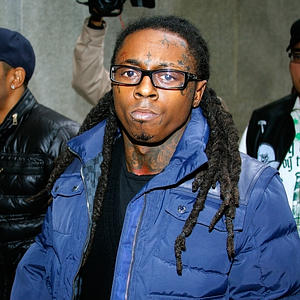 NYPost Reports: Lil Wayne is being sent to jail in his New York gun case just days after his next album comes out.
The rap star's Feb. 9 sentencing date was set today in a Manhattan state court. He said nothing during his brief appearance.
The Grammy winner pleaded guilty in October to attempted criminal possession of a weapon. It stemmed from a 2007 traffic stop of his tour bus. His plea deal calls for a year in jail.
Cash Money Records co-founder Birdman announced on his Twitter account last week that Lil Wayne's next album, "Rebirth," is due for release Feb. 1.