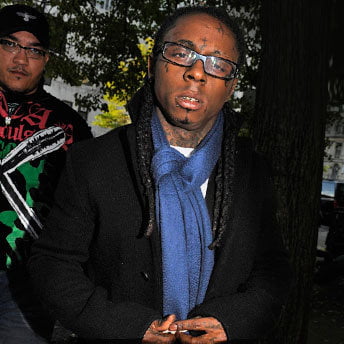 NEW YORK — Lil Wayne may be a self-professed gangsta with the gunshot wound to prove it, but he's made plenty clear how he feels about doing time behind bars.
"I'd rather be pushin' flowers," he raps in 2008's "A Milli," "than to be in the pen sharin' showers."
He might have to get used to it. At the apex of a career that has made him one of music's biggest sellers, the Grammy-winning artist is expected to start a yearlong jail term Tuesday after pleading guilty in a New York City gun case.
It would make him the latest in a string of rappers to go to jail after rising to fame — and the latest celebrity inmate to test law enforcement officials' ability to draw the line between providing special treatment and recognizing potential risks to high-profile convicts.
"It's a challenge," said Martin Horn, a former head of the New York City jails, where Lil Wayne's plea agreement calls for him to serve his sentence.
"It's not about setting (a celebrity) on a bed of roses, but it is about an obligation to every inmate to keep him safe."
For now, jail officials say only that they will assess the multiplatinum-selling Lil Wayne as they do every other new arrival and find an appropriate place for him among the city's roughly 13,000 inmates.
He might follow the path of rapper Foxy Brown, who spent about eight months in 2007 and 2008 in city jails on a probation violation after pleading guilty to assault in a fracas at a nail salon. Because of threats against her, she was held largely in protective custody in a cell of her own, with access to a day room, said Horn.
Defense lawyer Stacey Richman said she intends to ask for protective custody for Lil Wayne, as well as for attention to dental problems that postponed his sentencing by two weeks. "If Wayne had his druthers, he would not be asking for anything for himself," Richman said, but she said she was concerned for his health and safety.
Some jail officials prefer to hold even famous convicts in circumstances as ordinary as possible — a desire the inmates sometimes share.
Prison consultant Herbert J. Hoelter, whose clients have included epic fraudster Bernard Madoff and NFL quarterback Michael Vick, generally tells clients not to request anything special.
Otherwise, "you'll be viewed by other inmates and the prison system as thinking that you're 'more deserving,'" he says.
Madoff is now serving a 150-year federal prison sentence. He spends his nights in the lower bunk of a cell he shares with a drug offender, eats pizza cooked by a child molester and takes nighttime strolls around a prison track for fun, according to a lawsuit filed by an investors' attorney who interviewed Madoff in prison in July. Madoff's lawyer didn't immediately return a call Friday.
Prison officials have good reasons to try to treat famous inmates like any others, lest they face criticism for catering to celebrities.
The police union in Greenwich, Conn., slammed the town's police chief for letting ex-Supreme Diana Ross keep a cell phone and make a trip home while she was serving a two-day jail term in 2004. She had pleaded no contest to an Arizona drunken-driving charge and arranged to serve the sentence in her hometown. The police chief said he thought she was allowed to do her time in two blocks and hadn't known about the phone.
But if celebrities shouldn't get coddled, they also face particular risks behind bars, prison experts and defense lawyers say. Fellow prisoners may want to make a name for themselves by challenging famous inmates — or cozying up to them in hopes of sharing in their fame after release.
"Being prominent gets you noticed, and being noticed in prison is generally not very good," New York defense lawyer Benjamin Brafman said.
For that reason, New York state prisons sometimes put celebrities together in protective custody units, where they interact with each other but not the prison population at large, spokeswoman Linda Foglia said.
Ex-New York Giant Plaxico Burress and former "Sopranos" actor Lillo Brancato Jr., for example, have been in the same unit at an upstate prison, she said. Burress is serving two years after pleading guilty to a weapons charge; Brancato is serving 10 years on an attempted burglary conviction.
Some celebrities find their stature an asset behind bars.
"I get a lot of love from the inmates. They are familiar with my work, watching my growth over my career," rapper Gucci Mane recently told The Associated Press from the Fulton County Jail in Atlanta, where he is serving a six-month sentence on a probation violation.
"I love the fact that I'm a rapper. But behind these walls, I'm just another African-American coming up in the South. A lot of these brothas share the same with me. We have a bond."
Lil Wayne, 27, pleaded guilty in October to attempted criminal possession of a weapon, admitting having a loaded gun on his tour bus in July 2007. He could end up serving only about eight months with good behavior.
The artist — who accidentally shot himself in the chest when he was 12 and told interviewer Katie Couric "I'm a gangsta" last year — has been a rapper since his teens and a superstar in recent years.
His "Tha Carter III" — a reference to his real name, Dwayne Carter — was the best-selling album of 2008. His latest album, "Rebirth," was released this month.
Associated Press Writer Jonathan Landrum Jr. contributed to this report from Atlanta.