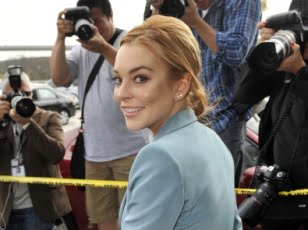 "Guess who is grinning from ear to ear and loving every minute of it?" You guessed it, Lindsay Lohan! The 25 year old actress experienced some difficult times with the court system, following her DUI charges. Placed on probation in 2007 for driving under the influence Lohan successfully completed all court requirements and no longer performs community services or attends psychotherapy.
Sautner confirmed that Lohan complied with all terms of probation and court where she dodged a 270 day jail sentence. The bubbly actress smiles happily as she exits the courthouse. A brush with law enforcement did Lindsay some good after all. She looks great! Judge Sautner the sentencing Judge stated, "She has completed her sentencing short of a year. She has done everything that this court as asked of her."
These are the only words that mattered to Lohan as she immediately spring from the courtroom but not before she and Judge Sautner exchanged a few words of encouragement. Judge Sautner did give Lohan some friendly and practical advice. She basically told Lohan to make better choices and to focus more on her career. Lohan responded back in a positive manner. She thanked the judge for being fair and stated, "It's really opened a lot of doors for me, so I really appreciate it."
Lohan has another pending case she is currently on probation for which is scheduled to end in 2014. This charge involves the theft of a necklace. The only requirement Lindsay has for successfully completing this probation is simple. She needs to obey the laws. "Not that hard," According to Sautner.