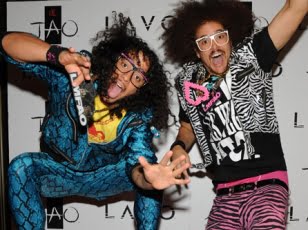 As reported by TMZ, the electro-pop duo, LMFAO was served with a lawsuit for $7 million by their former management company. 
On Thursday night, just as the group was getting ready to hit the stage for their American Idol appearance, the groups DJ frontman RedFoo (the one with the red hair), was handed the suit for breach of contract. His reponse? He laughed and took a picture with the process server, who by the way, smiled pretty for the camera (see: photo evidence on the site).
The management company, named in report is Rpm Grp and they are claiming that they signed the Los Angeles-based duo of Stefan Kendal Gordy (RedFoo) and Skyler Austen Gordy (SkyBlu) in 2008, helping launch them "from 0 to 60," only to get shown the door once they became successful. And yes, to answer your questions, these are music mogul Barry Gordy's son and grandson.
The suit, filed in Santa Monica Superior Court, also accuses the group of tortious interference and accounting, alleging RedFoo and SkyBlu poached Rpm employees to be their new managers, paying them a salary rather than writing the agency a commission check.
LMFAO performed "Party Rock Anthem" on "Idol," a gig that — if you can get it — means you've pretty much made it as an artist, or at least you're on the path to stardom in terms of radio relevance. They also took the stage alongside Madonna at February's Super Bowl halftime show, dueting with the pop queen on their hit "Sexy And I Know It."