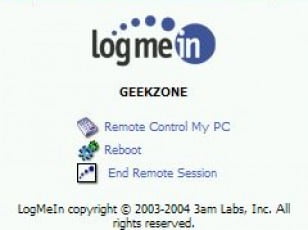 Enterprise users have a reason to smile today, as LogMeIn has launched a public beta of their Ignition remote access application onto the Android market. LogMeIn Ignition allows users to access their entire computer, including both files and applications, right from your Android phone.
Setting up LogMeIn Ignition was a quick and painless process – simply head over to secure.logmein.com and create a free account from the computer you wish to remotely control. You will then be asked to download the LogMeIn Free program and set up a secure password to link your phone to your PC. Within about five minutes, I was controlling my netbook from the palm of my hand.
So how well does the Ignition remote access process work? After spending about 30 minutes with Ignition, I was able to type a Gtalk message to our fearless leader Taylor, open up a word document and type a few words, type a Buzz post, and that was about it. It may be because I'm still running a MyTouch 3g which doesn't quite have the horsepower of its younger Android brothers, but the whole process seemed to go very slow.
Because Ignition is in a very early public beta, several bugs are to be expected and hopefully will be worked out in the final release. Being able to remotely control your computer from your Android phone will be a welcome addition to the capabilities of the Android platform, and as an enterprise user I greatly look forward to the final release of the Ignition app.
The LogMeIn team is actively looking for Android users to test the Ignition app, and to provide feedback on issues you are having. The Android app, registration on the website, and remote access software for your PC are all FREE. Ignition is not going to get better without your help, so head on over to their Android page and follow the install instructions to test this app out today.
LogMeIn Ignition for Android highlights:
* One-click access to your computers from your Android
* Unlimited access to all your personal and work computers
* Go mobile without the worry of leaving something behind