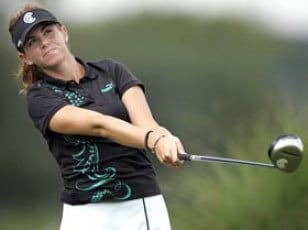 Police and an agent for 25-year-old Erica Blasberg say the LPGA Tour golfer has died.
Henderson, Nev., police spokesman Keith Paul said Monday that authorities were investigating Blasberg's Sunday death. It was not immediately clear whether foul play was involved.
Blasberg's agent, Chase Callahan, confirmed her death but declined to provide details because of the investigation.
A message left with the coroner's office was not immediately returned.
In her only start this season, Blasberg tied for 44th two weeks ago at the Tres Marias Championship in Morelia, Mexico, after having Monday qualified.
Greg Allen, the former coach at the University of Arizona, remembers a fiery competitor whom the Wildcats affectionately called "Skip." When Blasberg showed up to her first workout as a freshman in 2002, the trainer asked the team to warm up by skipping around the track. Blasberg didn't know how to skip.
"Every kid in America knows how to skip," Allen said, laughing. "We stuck that name on her."
Blasberg was a decorated collegian, winning six tournaments in two years. She was named Golfweek's 2003 Player of the Year after finishing the season No. 1 in the rankings. She also was '03 NGCA Freshman of the Year, Pac-10 Player of the Year and competed on the victorious 2004 Curtis Cup team.