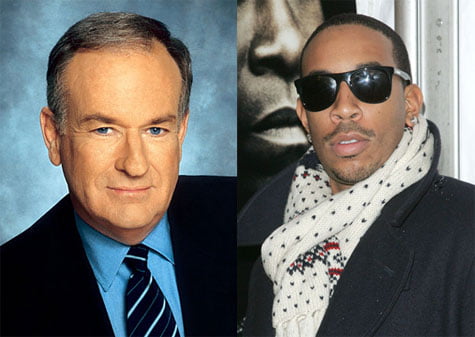 According to RadarOnline, it happened at a recent event the two were both attending.
Ludacris decided enough was enough and approached the host of Fox's 'O'Reilly Factor' to settle their differences.
"The first thing I said to him was, 'I want to meet the guy who has had so much to say about me, but knows absolutely nothing about me'," says Ludacris.
"I identified that I wanted to speak to him when I saw his name on the guest list. I looked at what table he was on, and I walked my a** straight to that table.
He wasn't expecting to see me, at all. The look on his face when he saw me approaching… priceless."
The two had been feuding ever since O'Reilly got Pepsi to drop Ludacris as a spokesperson seven years ago.
Bill cited such Luda lyrics as "I'm DUI, hardly ever caught sober, and you about to get ran the f— over. Grab the peels, cuz we robbin' tonight. Beat the s— outta security. We startin' a fight."
At the time O'Reilly called Pepsi "immoral" for giving exposure to the top-selling rapper.
Alls well that ends well however, as the pair have patched up their differences and even hosted a charity event together recently.