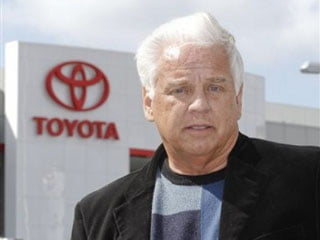 The man who became the face of the Toyota gas pedal scandal this week has a troubled financial past that is leading some to question whether he was wholly truthful in his story.
On Monday, James Sikes called 911 to report that he was behind the wheel of an out-of-control Toyota Prius going 94 mph on a freeway near San Diego. Twenty-three minutes later, a California Highway Patrol officer helped guide him to a stop, a rescue that was captured on videotape.
Since then, it's been learned that:
— Sikes filed for bankruptcy in San Diego in 2008. According to documents, he was more than $700,000 in debt and roughly five months behind in payments on his Prius;
— In 2001, Sikes filed a police report with the Merced County Sheriff's Department for $58,000 in stolen property, including jewelry, a digital video camera and equipment and $24,000 in cash;
— Sikes has hired a law firm, though it has indicated he has no plans to sue Toyota;
Sikes won $55,000 on television's "The Big Spin" in 2006, Fox40.com reports, and the real estate agent has boasted of celebrity clients such as Constance Ramos of "Extreme Home Makeover."
While authorities say they don't doubt Sikes' account, several bloggers and a man who bought a home from Sikes in 2007 question whether the 61-year-old entrepreneur may have concocted the incident for publicity or for monetary gain.
A man who bought a house in the San Diego area from Sikes in 2007 told FoxNews.com he immediately questioned the circumstances surrounding Monday's incident.
"Immediately I thought this guy has an angle here," the man said on Friday. "But I don't know what the angle is here."
The man, who asked not to be identified, said the home he purchased from Sikes had undisclosed problems, particularly "waterproofing issues," that cost him $20,000. He tried to sue in civil court, but Sikes had filed for bankruptcy during the process.
"It got to the point where it wasn't worth me paying legal fees to go after a guy who was broke," he said. "I ate the 20,000 bucks."
The man said Sikes came off as a dishonest businessman who was difficult to work with during the transaction.
"It didn't surprise me," he said of Sikes' recent troubles with his Prius. "I thought this guy is trying to pull a scam here."
Toyota executives, who have talked extensively with Sikes, have said they're "mystified" by Sikes' account.
"It's tough for us to say if we're skeptical," Don Esmond, senior vice president of automotive operations for Toyota Motor Sales, said Thursday. "I'm mystified in how it could happen with the brake override system."
Esmond said all Priuses are equipped with a computer system that cuts power to the wheels if the brake and gas pedals are depressed at the same time — something Sikes was doing.
Sikes' reputation apparently precedes him in Northern California, as well.
"I've been warned that he used to do business here," Jim Pernetti of AAA California Document Services told Fox40.com, "and that I should be very wary of anything with him."
Sikes called 911 on Monday to report that his gas pedal was stuck and his blue 2008 Prius was speeding at 94 mph down a freeway near San Diego. A CHP officer helped bring the car to a stop, but not before two calls to police dispatchers that spanned 23 minutes.
Asked why he didn't simply put his car in neutral, Sikes said: "You had to be there. I might go into reverse. I didn't know if the care would flip. I had no idea how it would react."
Sikes, who did not return several calls and e-mail messages, told the San Diego Union-Tribune that the incident was no hoax.
"I've had things happen in my life, but I'm not making up this story," he told the newspaper.
Roughly 8.5 million vehicles worldwide have been recalled by Toyota, including more than 6 million in the United States, due to acceleration and braking problems in several models. Regulators have linked at least 52 deaths to crashes allegedly caused by accelerator problems.
The National Highway Traffic Safety Administration has sent experts to a New York City suburb where a 56-year-old woman said her 2005 Prius sped up on its own as she was leaving a driveway.
From Fox