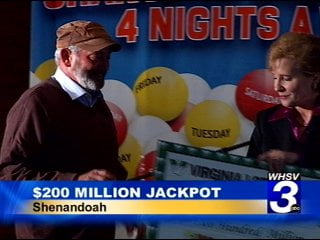 Steve Williams is a carpenter from the town of Shenandoah, where he got lucky one day five months ago.
He says he stopped at the local convenience store to buy a lottery ticket after paying his bills that day.
"If there is truth that dreams come true, then look right here and you'll see one," said Williams at a press conference held by the Virginia State Lottery in Harrisonburg Friday.
Williams won the Mega Millions jackpot, worth $200 million. He opted for the lump sum cash prize of $125 million.
Williams has lived in the area his entire life and moved to Shenandoah from Elkton after getting married. Even though he's $125 million richer, he's not going to change much.
"I'm not planning on going nowhere. That's home and that's where home will be," said Williams.
He also said he will continue being a carpenter; a profession that he claims afforded him lottery tickets only if he had money left over after paying bills.
"I've never had any money that amounted to anything. I'll probably just live like I've always lived, but maybe a shade better," he quipped to a crowd that included the staff from the Valleys Exxon in Shenandoah, where Williams bought the ticket, and where he daily makes coffee for the staff.
"Nobody is more deserving," said a Valleys Exxon employee.
It was known that Williams had won the jackpot five months ago. He only now has claimed the money.
He says he spent the time putting together a financial team of people that he trusts.