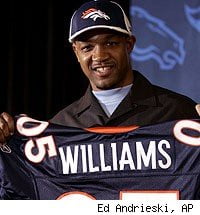 Over three years after the death of Broncos cornerback Darrent Williams, Willie Clark was found guilty of murder Thursday. Clark, 26, was facing 21 charges, including two counts of first-degree murder.
After 11 days of testimony from over 40 witnesses, the jury deliberated for around 12 hours over the course of three days before arriving at the guilty verdict. Clark now faces life in prison.
According to the prosecution, Clark was involved in an altercation with people in Williams' group of friends at a New Year's (2007) party, and later was one of two gunmen who peppered Williams' Hummer limo while passing by in a white Chevy Tahoe. Clark will be detained in a Denver area jail, where he's also still facing another, unrelated murder charge.
Among the witnesses who testified against Clark were former teammates Elvis Dumervil and Brandon Marshall. Marshall testified that it was Clark in the altercation outside the club, and admitted to still being tormented by the ordeal. The star witness, though, was a man named Daniel Harris, who goes by the nickname "Ponytail." Harris was the only one who identified Clark as the shooter. Harris was already serving a life sentence for another case, but had it trimmed to five years in exchange for his testimony.
In the wake of the judgment, Broncos owner Pat Bowlen released the following statement:
"Nothing can ever bring Darrent Williams back or ease the suffering for (his mother) Rosalind and her grandchildren. But after three long years, it is very gratifying to see closure brought to this case. This process has been extremely difficult for the Williams family, his friends and teammates, this community, and the entire Denver Broncos organization.
"I would like to praise the long and hard work of the Denver Police Department and the Denver District Attorney's Office. I also want to thank the Denver community for the overwhelming support that both the Williams family and the Broncos have received during this unimaginable tragedy.
"Darrent's legacy will live on for all of us in the Broncos organization, and the outstanding work done each day at the Darrent Williams Memorial Teen Center is a tribute to his impact on this community. Our hearts continue to go out to the entire Williams family."