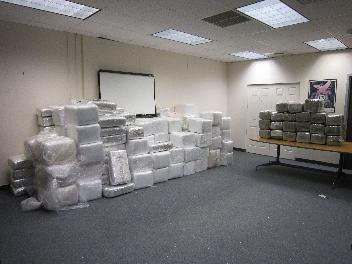 The DEA is releasing pictures from a massive marijuana bust in eastern Jefferson County.
The image is of stacks of marijuana taken from a tractor-trailer that got stuck on a farm off Aiken Road not far from the Persimmon Ridge Golf Club.
Police had been following the tractor trailer. They searched it, and say they eventually found more than 4,000 pounds of marijuana worth an estimated $440,000.
7 people from Louisville and Crestwood were arrested.
News Release from the Department of Justice:
Fernando Cortez-Briones, age 32, of Louisville, Kentucky; Cupertino Gonzalez-Alverado, age 45, of Louisville, Kentucky; Exsaul Silva-Garcia, age 44, of McAllen, Texas; Carlos Mora-Sanchez, age 24, of Louisville, Kentucky; Rodrigo Macias-Farias, age 34, of Louisville, Kentucky; Rafael Lara-Gascon, age 31, of Crestwood, Kentucky; and Eladio Hernandez-Lopez, age 39, of Crestwood, Kentucky, were charged March 1, 2010 in a complaint filed in U.S. District Court in Louisville for conspiracy to possess and distribute more the 100 kilograms of marijuana, United States Attorney Candace G. Hill of the Western District of Kentucky announced today.
Six of the defendants appeared in federal court yesterday for a preliminary hearing. The seventh, Hernandez-Lopez, will have a preliminary hearing on Thursday, March 4.
According to an affidavit filed with the court, agents of the Drug Enforcement Administration, acting on information provided to them, identified a semi-trailer truck loaded with marijuana to be delivered to a location in Louisville on February 25, 2010.
Surveillance of the truck led agents to a farm in 8200 block of Aikin Road.
The agents observed that the truck failed to negotiate a turn into a driveway to the farm and became lodged in a ditch along Aiken Road.
A drug dog called to scene alerted on the trailer, indicating the presence of drugs.
When the trailer was searched a large amount of marijuana was discovered.
The defendants were arrested after some had abandoned the stranded truck and left the area in other vehicles, or were arrested walking away from the area of the stranded truck.
According to testimony at yesterday's preliminary hearing, approximately 3700 pounds of marijuana was recovered from the truck.
Testimony at that same hearing also revealed that, acting on information gained during the investigation, agents searched two other locations resulting in the recovery of an additional 500 pounds of marijuana , approximately $440,000 in cash, a money counting machine, and a night- vision scope.
At the conclusion of yesterday's hearing, Magistrate Judge James Moyer found, as to the six defendants, sufficient evidence to justify presentation of the case to the grand jury for possible indictment.
The case is being prosecuted by Assistant United States Attorney Mac Shannon, and is being investigated by the Drug Enforcement Administration, and DEA drug task force officers.