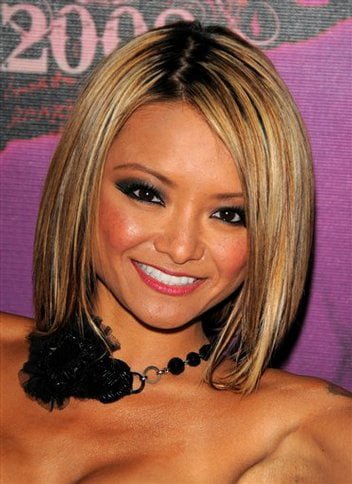 SAN DIEGO — San Diego Chargers linebacker Shawne Merriman filed a copyright and trademark infringement lawsuit Wednesday against reality television star Tila Nguyen, alleging she posted pictures of Merriman and used his "Lights Out" trademark on her Web site without permission.
The federal lawsuit alleges that Nguyen, also known by her stage name Tila Tequila, used the pictures to drive traffic to her site so visitors would purchase goods and services such as music and jewelry and VIP services.
Merriman, who runs a business called Lights Out Holdings, said he had been negotiating an agreement with Walmart stores for the distribution of T-shirts.
According to the suit, Walmart has "delayed" its dealings with Merriman. Merriman also said his relationship with the San Diego Chargers has suffered because of Nguyen's statements and actions.
Merriman says that Nguyen's use of his "Lights Out" trademark "is likely to confuse consumers into believing there is an affiliation, connection, sponsorship or other form of relationship between defendant and plaintiff which in fact does not exist."
Merriman alleges that Nguyen set out to make unfounded charges on her Web site, to the press and to other people knowing they would interfere with his business relationships. These include allegations that he choked and attacked her, that he "sleeps with minors and forces them to take drugs" and used illegal drugs.
Merriman says in the lawsuit that she has admitted making false statements about the football player.
He is seeking an injunction from trademark and copyright infringement, statutory damages of up to $2 million and other unspecified damages.
In November, Nguyen filed a lawsuit against Merriman in state court, accusing him of assault, battery and false imprisonment,
She alleged that on Sept. 5 she and Merriman got into a dispute over his "temper, his drug use and derogatory comments" toward her, according to her lawsuit. She also said she refused to take drugs and that upset Merriman.
According to Nguyen, Merriman allegedly choked her when she tried to leave his Poway home. Sheriff's deputies were called to the house and arrested Merriman after Nguyen signed a citizen's complaint against him.
Merriman has said that Nguyen was drunk and he was trying to prevent her from driving.
Sheriff's deputies said they saw no signs of injury or struggle and the District Attorney's Office declined to file charges, saying there was not enough evidence to prove a crime was committed.