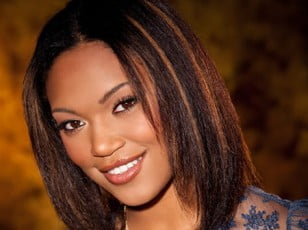 I'm sure that we are all tired of hearing about Montana Fishburne and her pornscapades, but, I have to tell you guys that she's actually done it; She's actually done what she initially set out to do, and that is be as big, if not potentially bigger in celebdom as Kim Kardashian.
The 18-year-old says she is being inundated with offers from not just the adult film industry, but also mainstream film.
"I'm actually getting a lot of mainstream offers," she tells the Associated Press, declining to get into specifics. "They are acting roles. I'm open to scripted and reality. It just all depends on what the project it is. If something truly interests me, I'll get super involved and want to make it happen."
Montana has repeatedly stated that her doing porn was a way for her to "jump start her career". Although we all know that she could have rode the wave off of her father, Laurence Fishburne's, name alone. Actually, she did ride that wave. I mean really, would she be this popular in any industry if she didn't have Laurence Fishburne as a father? Would she have garnered all of this notariety? Probably not.
In her justification of doing what she's done thus far, Fishburne stated, "Kim Kardashian's sex tape was released, but she still got past that, even though she got all that negative attention for it, she still has all these other ventures going on now. That is what I want to emulate: having a tape come out and still being seen as a positive person. Not just, 'She's a porn star.'"
No matter what she says, she's still going about this the wrong way. This isn't a positive situation. What kind of message is she sending to young women? A message that says, no matter how successful your parents are and even if they attain their wealth the right way, you can do it the porn star way and show your twat all across the world and become famous despite all of the legitmate and wholesome ways of attaining a successful career. Yeah… that's the American way right?