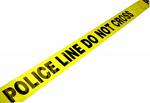 A manhunt is under way in south DeKalb County as police search for two motorists who took off during a traffic stop, dragging an officer, police said.
The incident began about 7:15 a.m. on I-20 near Columbia Drive.
After the officer got the motorists' identification, "the two subjects began to drive off and the officer tried to reach into the vehicle to shut the car off," police spokesman Officer Jason Gagnon said. "The suspects briefly dragged the officer, and a responding officer shot at the suspects while they were dragging him."
The suspects, who were not hit by the gunfire, ditched their stolen Honda Accord and ran. Several officers are searching for the suspects.
Gagnon said the officer who was dragged appears to be alright.