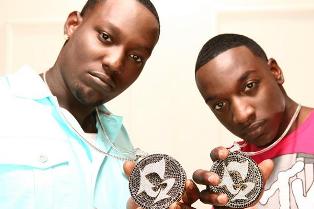 Mullage catapulted onto the national music scene with the smash hit "Trick'n" earlier this year. A summertime anthem, particularly in the South, the duo has since been trying to catch up to the record. Dropping mixtapes and putting on some serious miles they are making sure people know the men behind the record and not just the tune itself. With their first studio album to be released in 2010, the Atlanta raised duo of B-Town and B-Boy are working hard to ensure they are seen for the writers and musicians they are, using their military background to keep a tireless work ethic in check. Having recently released a mixtape and with several additional projects in the works the fellas took a break out of their jet setting schedule to chat with me about their backgrounds, their music and where they're headed.
The two of you linked up as adults but I'm wondering how music influenced you before you met.
B-Boy: "Music has always been a big part of my life just in the way that it puts you in a certain mood when you listen to it. I can remember my younger days just reciting things I would hear on the radio. Music is just something I have always turned to in a time of need or even just when I am in a meditational state of mind."
B-Town: "For me, I picked it up from my mother. She's been singing for 20 years but had to give it up because she was raising me. So I feel like I'm fulfilling her dreams because she didn't get the chance to."
What about early musical influences, who were you listening to in the formative years?
B-Boy: "I would say coming up early on I listened to a lot of Bone Thugs and Harmony and Cash Money, and then in my teenage years it went to TI and basically a lot of the southern artists that paved the way for us."
B-Town: "Anything to do with the Dungeon Family. The first CD I owned was Goodie Mob Soul Food so I'm accustomed to that type of music from early on. From an individual artist standpoint though I really have to say Andre 3000. He just has his own style and didn't care what other people thought. He made it personal but yet creative and I think that's what music is all about, making it personal and creative."
You met when you were both in the Navy. When you initially got together did you immediately vibe?
B-Boy: (laughs) "I wouldn't say that! I remember the 1st day I seen him, I was working on a record and he walked in. And I had already heard through word of mouth that there was another cat from Atlanta. With the mentality in the Navy, if you have someone claiming they're from Atlanta you gotta question them to see if they're really from Atlanta. So you know that skepticism was the first vibe. But initially in the studio, we clicked. It was magic."
You both got out in 2008 and began working outside the confines of the Navy. When "Trick'n" was released earlier this year, do you think you were prepared for the level of popularity it reached?
B-Town: "I don't think we really were because we had to catch up to the record. The record kinda had legs of its own and took off by itself. We had to catch up to it. Everybody knew the record but didn't know who was singing it. And that's how a lot of music goes; you recognize the record but not necessarily who's singing it. "
You've had the opportunity to work with T.I. on several occasions, including on "Trick'n" and "For Real". What was that experience like for you?
B-Boy: "It was something we gained a lot of knowledge from. Him teaching us different ways about going about recording and starting an album. He definitely taught us a lot of things that we will put into our ingredients as we construct our first project, Element of Versatility.
You guys recently released Elevators- The PreAlbum, would you say that's a teaser to the studio album next year?
B-Town: "I would say it's a teaser for the album. We wanted to showcase our versatility. Although "Trick'n" took off, some people took it as a gimmick record. So you know with us dropping a body of work, it shows we sing, we write, and are also very influenced by hip-hop. We just wanted to show that and also that we don't have any problem with releasing original records. Some people say 'hold onto your music' but if you hold onto your music you can't expect people to get the full effect of what you're able to do."
There are several big names on Elevators, Wyclef, Akon, TI, can we expect more of these heavy hitters on the Element of Versatility?
B-Boy: "We do features as we see fit. We don't really reach out on features a lot because we feel like this is our first project and we need to show our versatility and what we are able to do. We need to show that we can hold our own on our record. If it calls for a feature than by all means we'll make it happen but for the most part, we don't need the biggest names on this project."
When will we see The Element of Versatility on shelves?
B-Town- "We're hoping for the end of first quarter. We're pushing Elevators right now and we have another mixtape dropping mid-January entitled This is for the Radio and that'll be hosted by DJ Ill Will and DJ Rockstar. Right before the album drops. We've also got a fan appreciation mixtape coming. So even when you are signed to a major label you still have to put in a lot of the leg work and that's what we're doing right now, grinding it out. We're just consistently making music. The main focus right now is just to continue to feed people with music. "
Lastly, you guys are all about the music right now but I know some people are curious about your down time. When you have the time to get away from the industry, what are you doing?
B-Boy: "When I do get downtime, I cool it at the house, play video games, play with my dogs. I'm a more sit-down and chill type of guy. (laughs) But you got your grown ass man over there that just likes to lift weights all day…"
B-Town: (laughs) "I am real big into fitness and things so I do like to lift weights. I figure I can't get no taller so I just might get a little bigger. I gotta do what I can."
While one may be more of a sit and chill type of guy, it's pretty apparent they haven't had much time for that lately. The Mullage men are working to make sure "Trick'n" is merely their intro, not their entire act. They encourage people to check out their MySpace page where they can download Elevators and also keep up with them on Twitter for the latest info on their upcoming projects.