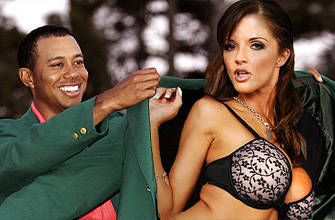 "I told him, 'Stay away from that son of a ***** (Jordan), because he doesn't have anything to offer to the ****ing world in which he lives except playing basketball, which he did yesterday," lawyer John Merchant told the latest edition of Vanity Fair magazine.
The magazine's 14-page special also featured interviews with Woods' Tiger Woods became a self-indulgent, sex-crazed narcissist because he hung out with the wrong crowd — including retired U.S. basketball players Michael Jordan and Charles Barkley, the shamed golfer's longtime former adviser claimed in an explosive interview Wednesday.
alleged mistresses, including cocktail waitress Mindy Lawton, who described how she first met Woods and his wife Elin Nordegren while serving them at a diner near their Florida home.
"One of them would read the paper, just very cold," she said. "I didn't see any signs of affection … I figured he was in a loveless relationship with his wife."
Soon after, she began an affair with Woods, who was nonstop with his sexual demands and "had the biggest (penis) I've ever seen," said Lawton.
On one occasion, he insisted on meeting her right before a big golf tourney in 2007, she said, adding: "He wanted that last piece of booty before he could go to his tournament. To make him shoot better."
Another woman linked to Woods, Las Vegas nightclub hostess Jamie Jungers, said he showed no remorse about cheating, readily answering questions about his marriage, which he described as "good," and noting after one sex session in 2005 that his wife was "in Sweden with her sister." -Fox Sports