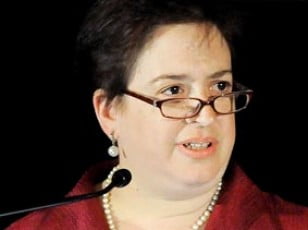 President Barack Obama will nominate U.S. Solicitor General Elena Kagan to serve as an associate justice on the U.S. Supreme Court, NBC News' Pete Williams reported late Sunday night.
Kagan, 50, served as the Dean of Harvard Law School from 2003 to 2009. Obama nominated her to serve in her current post as solicitor general early in 2009, and she won Senate confirmation by a vote of 61-31. She is the first woman to serve as solicitor general of the United States.
She was widely viewed as a front-runner when Obama was considering candidates for a Supreme Court opening last year, but the president ultimately chose Sonia Sotomayor for the job.