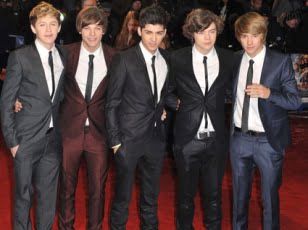 Seems that Simon Cowell's latest boy band sensation have found themselves in bit of a legal pickle. The band is currently facing legal action regarding their name. The claim has been brought before the court from a US band who states that they have been using the same moniker a little over a year longer than the boy banders.
The plaintiff's in the case, also a five member band hailing from California, have filed a lawsuit after they say their efforts to "negotiate a reasonable compromise" with One Direction's legal team have failed. They also claim that the British crooners reps have escalated the entire struggle by attempting to make them (the plaintiffs) ditch  their name to use another.
The US group says that they formed their group and came up with the One Direction name back in 2009, whereas the UK One Direction didn't come together until 2010 after their stint on the UK's version of X-Factor.
When asked why they have decided to move forward with a lawsuit and not just change their name, the band stated, that they liked the British band, but added: "To protect our rights, we reluctantly have filed a lawsuit."
In their attempt to squash this whole thing, the US group is asking Simon Cowell's company Syco Entertainment and record company Sony from using the name and are asking for a share of the British act's profits. And in a statement to their fans which was issued online via the band's Facebook page, they said, "Despite our best efforts, we were unable to negotiate a reasonable compromise with the handlers for the band."
Although all of this is going on around them, the One Direction boys are still in Australia and intend to go on with the start of their tour which starts on Friday.