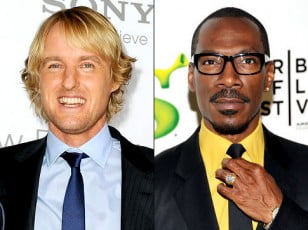 Have no fear. Owen Wilson and Eddie Murphy will (probably) make you laugh again.
Both actors are alive and well, despite death hoaxes crafted Wednesday to make fans think otherwise.
Like the Charlie Sheen prank launched just after Christmas, a faux news organization called Global Associated News spread false reports claiming the stars had died in tragic accidents.
"Actor Owen Wilson is reported to have died shortly after a snowboard accident earlier today," read one of the stories.
But the claim is "absolutely false," Wilson's rep told the Daily News.
The exact same article was written about Murphy and – guess what – he's fine, too.
Even ailing Aretha Franklin, who is recovering from surgery reportedly for pancreatic cancer, was a "victim" of a similar false rumor Tuesday.
Thankfully, "Aretha is doing fine," her rep confirmed to the News later that day.
GAN's distubring pranks aren't new, but the site has upped its output in the last week – which could ultimately work against them.
While the misinformation is usually spread quickly through social networking sites like Twitter, the rapid succession of the reports during the last few days is making many realize that they're nothing but vile jokes.
Perhaps that means GAN will suffer its own death soon.