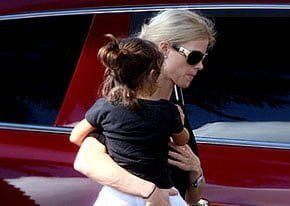 US: On Tuesday, Tiger Woods' wife Elin Nordegren made another rare public appearance, carrying 2-year-old daughter, Sam, in Windermere, Fla.
Her beleaguered husband, 33, was M.I.A. So was her wedding ring.
See Tiger Woods and his wife in happier times
Nordegren, 29, also wasn't wearing her ring when she was photographed at a Florida gas station over the weekend, either.
See the women linked to Tiger Woods
Nordegren — who recently bought a lavish $2.15 million estate on its own private island in Vaxholm, Sweden, in her own name — is considering her options and "taking the time she needs," best friend Mia Parnevik recently told Us Weekly. "It's very sad. She came to so many of Tiger's games! She was very supportive!"
See celebs who landed in hot water due to their flings
As for how he repaid her loyalty?
"I am both shocked," said Parnevik, "and not shocked." On Dec. 11, Woods, 33, admitted for the first time to cheating on his wife. He said that he is taking an "indefinite break from professional golf. I need to focus my attention on being a better husband, father, and person."