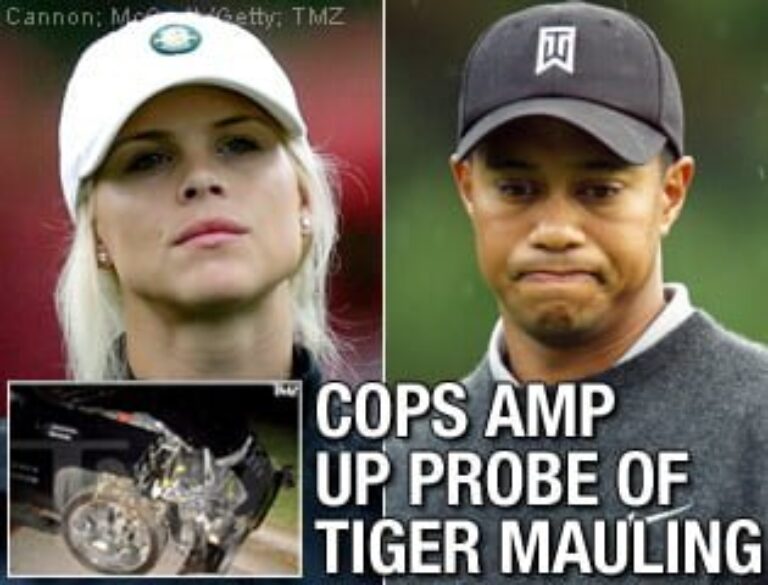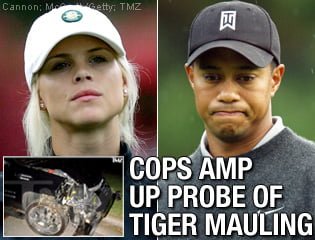 Cops are stepping up an investigation into whether an act of domestic violence occurred in Tiger's lair.
The Florida Highway Patrol is seeking a search warrant to find out if Tiger Woods' wounds are consistent with a car accident or an assault, TMZ.com reports.
The warrant would allow them access to medical records from the hospital where the 33-year-old golfer was treated, the gossip site reports.
The request comes after Woods and wife Elin Nordegren cancelled an interview with police officers for a third time.
Sources told TMZ authorities think they can show probable cause of a crime having been committed, a requirement in obtaining a warrant. Among the potential scenarios the police are looking into is an inconsistency in Nordegren's story to police. According to reports, she told troopers she used a golf cart to look for Woods when she came upon the accident, but did not mention the golf cart when she first spoke to police after her husband's accident. The 29-year-old former model could be facing a potential domestic violence charge.
Woods also told a friend that he was taking prescription medication for pain, TMZ previously reported, which could be consistent with a DUI.