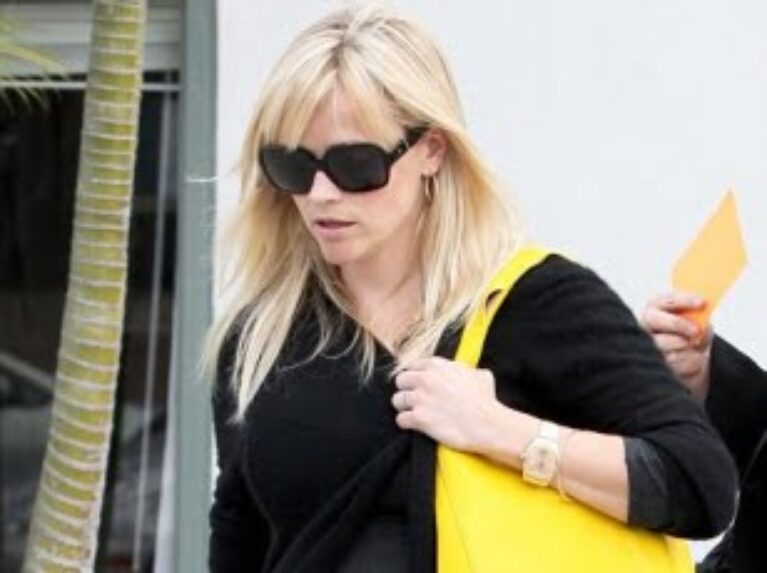 Reese Witherspoon embraces a noticeable bump she has been attempting to keep hidden from the public and from probing photographers. Seems like the expectant mom plans to announce her pregnancy but not at this time. Spotted exiting a salon in Beverly Hills and covering her tummy has critics wondering, "Why the secrecy?" The 37 year old actress wedded her 47 year old husband Toth last year. The wedding took place at the $7 million dollar ranch in California.
Reese did give insight as to her maternal plans to raise a family. She apparently shares custody of two children ages 12 and 8 with her ex Ryan Philippe. The pregnant actress is around 3 months along in her pregnancy and plans to take a break from her acting career in the near future. Her aim is to focus on parenthood more so than her acting.
Photographers spotted Reese, new husband Toth and kids Deacon and Ava stepping out for some family time before the marriage. Sources state Witherspoon demands at least $15 million her movie. However, there are rumors stating the last 3 movies were box office failures and new offers of employment are not coming her way.
Reese Witherspoon latest films were Water for Elephants, This Means War and How Do You Know. Despite the setback on the film Reese excitement about being a mom leaves her happy and self conscious. The fact that she is willing to put her pregnancy ahead of acting shows fans and critics how serious Reese takes motherhood and family.