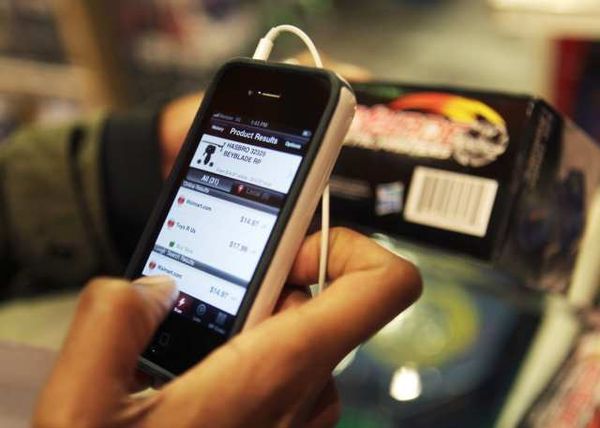 If you're planning on heading out to the stores for some post-Thanksgiving shopping, there are bound to be some great bargains that will catch your eye on Black Friday. Not everything you like will necessarily be on sale the day after turkey day, however. It's a good idea for you to use a price comparison app on your smartphone to help you find the best deals, especially as it gets closer to the holidays and you grow more desperate to find the perfect gifts for your loved ones.
The following apps are available for iPhone and Android smartphones. They will let you know if another store has a better price, or if you might just be better off making your purchase online.
Amazon Price Check
When you're admiring an item in a store, whip out your phone and launch the Amazon Price Check app. Simply use the phone's camera to scan the product's bar code. You can also say the name of the item into your phone's microphone, or type in its name to get results. You'll instantly see if you can get a better deal buying it from Amazon instead of in the brick-and-mortar store.
PriceGrabber
Use the PriceGrabber app to find the lowest price for millions of items. You can scan a barcode, search by the name of a product or even type in the UPC barcode number. PriceGrabber also gives you product reviews for the items you scan. You can add scanned items to your favorites list if you're not ready to make a purchase that day. The app will show you nearby locations where you can find an item, and it even gives you driving directions!
RedLaser
RedLaser is another price comparison app that many shoppers have come to rely on as they hunt for the best deal. The more you can save during your holiday shopping, the more gifts you can buy for your family and friends. Use RedLaser to scan barcodes, including UPC symbols and QR codes to find the best deal locally or online for the items you're interested in buying.
ShopSavvy
Are you curious about what nearby competitors are charging for a product that's caught your eye during the holiday shopping season? Use the ShopSavvy app to scan an item's barcode or QR code, or type in the name of a product if you don't see a barcode. You'll be instantly rewarded with details about where you can find the best deal for the item in question. If you don't feel like leaving the store, you can use ShopSavvy to find out about local stores' price matching policies to see if you can get a better deal on the spot.