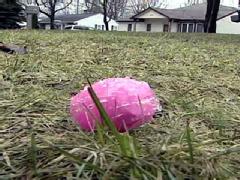 Mich. — The fun of finding Easter eggs took an ugly turn in Auburn Hills Sunday when neighbors reported that they found racists notes stuffed inside brightly colored plastic eggs.
African-American families in the 4800 block of Dexter Road said they found the plastic eggs tossed in their yard with hateful messages inside.
Some of the messages included the "N" word and references to the Aryan Nation.
Shamir Lyles said she watched a girlfriend's son open one of the eggs.
"He was shocked. He didn't know what it was, he thought it was the Easter bunny," she said. "I was really shocked. I mean, you know the feelings are out there and the thought are there, but to just be openly displayed like this … I was really kind of shocked this happened in our area."
Police said they are investigating.