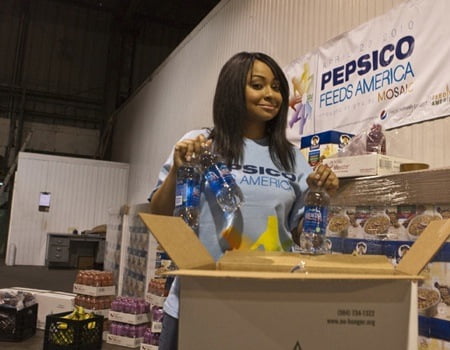 Today, Mosaic, PepsiCo's African American employee resource group, is teaming up with Feeding America to hold a national day of service for PepsiCo employees. Together with actors Nick Cannon and Raven-Symoné, more than 1,400 PepsiCo employees will donate their time and energy to support 30 local food banks across the United States.
According to the U.S. Department of Agriculture, approximately 49 million Americans do not have enough to eat. Most individuals who are struggling with hunger are not homeless or out of work. Each year, 37 million people in the United States, including 14 million children and nearly 3 million seniors, rely on relief from Feeding America food banks and the agencies they serve for emergency food.
"Feeding America has a long-standing relationship with PepsiCo and is excited to take part in the Employee Day of Service in the fight against hunger," said Vicki Escarra, President and CEO of Feeding America. "In these challenging times, when one in six Americans faces hunger, it means so much to have companies like PepsiCo bring its employees to support their local food banks and come to assist those in need. We are incredibly grateful to work side-by-side with such a committed company."
During the event, volunteers will sort and pack food boxes that will go to area soup kitchens, churches and other agencies that have special programs to feed Americans facing hunger. The Day of Service is expected to help feed more than 2 million people and generate more than 5,000 hours of volunteer time in a single day toward the fight against hunger.
Nick Cannon will join 100 PepsiCo employees in New York City. In partnership with City Harvest, the world's first food rescue organization, volunteers will pack 40,000 pounds of fresh apples into bags for delivery to emergency feeding programs in the five boroughs, where they'll reach thousands of New Yorkers who are struggling with hunger. As part of its overall commitment to assisting in the fight against hunger, PepsiCo is also a long-standing partner of the Food Bank For New York.
Among the many projects taking place across the country, Raven-Symoné will spearhead PepsiCo's product donation of over 10,000 cases of Quaker Oats products to food banks near PepsiCo's three headquarter locations.
"As a food and beverage company, we know the value of food for nourishment, performance, bonding and enjoyment. We also realize that for many people, food is a necessity that can be difficult to afford," said Greg Willis, Vice President and General Manager of PepsiCo Sales and Chairman of Mosaic's community projects. "That's why PepsiCo employees are proud to host our service day at Feeding America network food banks. Together, we can raise awareness for a critical issue that is near to our hearts, while reaching millions of affected individuals."
The current economic landscape places more importance on Feeding America network food banks than ever before. In its recent research study, Hunger in America 2010, Feeding America found a 68 percent increase in the number of adults seeking emergency food assistance who have been unemployed for under a year compared to four years ago. The report also shows that there has been an increase of more than one million additional African Americans in need of emergency food assistance each year since 2006. With more than one in three African American adults seeking emergency food assistance from Feeding America, African Americans make up 34 percent of all adults served by Feeding America.
PepsiCo is a longtime supporter of the Feeding America network and in addition to this volunteer day of service, has provided over 300 million pounds of product to Feeding America over the past five years.
PepsiCo recently announced a set of global goals and commitments in the areas of nutrition, the environment, and workplace practices called The Promise of PepsiCo. One of the company's key priorities is to actively work with global and local partners to help address global nutrition challenges. PepsiCo Feeds America is just one step in the company's progress towards reaching those goals. As PepsiCo grows, the company will continue to invest in business and research and development to expand offerings of more affordable, nutritionally relevant products for underserved and lower-income communities.
All 1,400 volunteers will enjoy complimentary meals on this day of service, with breakfast courtesy of Dunkin' Donuts and lunch courtesy of Pizza Hut.