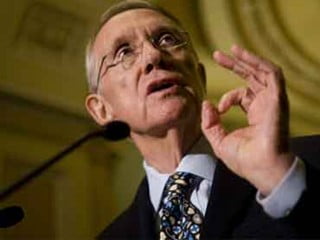 Senate Majority Leader Harry Reid's wife and daughter suffered serious injuries in a crash in Virginia Thursday.
Reid's wife, Landra, 69, broke her back and neck in the accident along Interstate 95 near Lorton, Reid spokesman Jim Manley told the Associated Press. She and the couple's adult daughter, Lana, are being treated at Inova Fairfax Hospital. Neither woman's injuries appeared to be life-threatening.
Their Honda Odyssey was rear-ended by a tractor-trailer at about 1:10 p.m. and pushed into the 1997 Jeep Grand Cherokee in front of it, which in turn was forced into the next lane, where it struck a Chevrolet Cobalt.
The driver of the truck, Alan Snader, was charged with reckless driving.
"Mrs. Reid has a broken nose, broken back and broken neck. Lana has a neck injury and facial lacerations. Both Mrs. Reid and Lana are conscious, can feel their extremities, and according to doctors their injuries are non-life threatening," Manley said. "Sen. Reid has been to the hospital and appreciates the support he and his family are receiving from Nevadans and his colleagues in the Senate."
Reid later returned to Capitol Hill, where he was meeting with White House Chief of Staff Rahm Emanuel on efforts to pass health care legislation.
The drivers of the Cobalt and the Grand Cherokee also were taken to Inova Fairfax with non-life-threatening injuries. Everyone involved was wearing a seatbelt.
Reid, 70, met Landra while they both were attending Basic High School in Henderson, Nev. They were married in 1959. Lana was born two years later, followed by four boys: Rory, Leif, Josh and Key