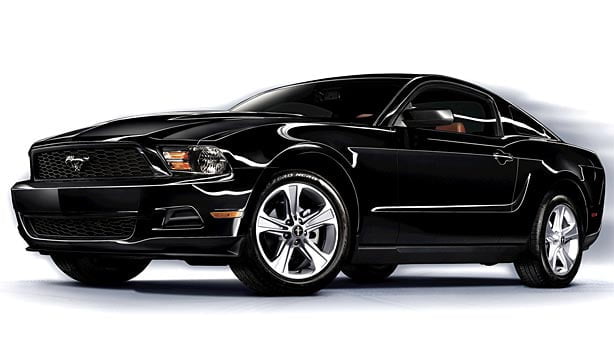 It would be reasonable to expect that Ford might pass over the Mustang and instead devote more attention to its other models since it's fresh off a comprehensive revamp for the 2010 model year. However, that's not what is shaping up in the House That Henry Built.
For 2011, the Blue Oval is introducing a new 3.7-liter V6 Mustang that should give it the firepower and refinement needed to take on Chevrolet's six-cylinder Camaro and Hyundai's upstart Genesis Coupe. But it isn't just the spanking all-aluminum powerplant and its 305 horsepower and 280 foot-pounds of torque that's making the scene for the forthcoming model year. In addition to the Cleveland-sourced mill, there are a pair of fresh gearboxes, a new V6 performance package, and a host of nip/tucks to the interior and elsewhere.
Now, we could grouse on behalf of 2010 MY 'Stang owners everywhere that these upgrades weren't part of last year's mid-life updo, but instead, we'll just be happy that these advancements are arriving at all.
Despite being smaller than the outgoing 4.0-liter V6, the dual-overhead cam 3.7-liter's horsepower and torque ratings represent massive improvements over the 2010 model (305 HP dismisses 210 HP and 280 lb-ft. plays 240 torques). In fact, that's more horsepower than the 4.6-liter V8 Mustang made just a few years ago. While the 305-horse figure only allows the Mustang to pip the crosstown Camaro by a single all-important stallion in the pony car bragging wars, Ford says the powertrain will be good for 30 miles-per-gallon on the highway when paired with its new six-speed automatic, also one notch better than the Chevy.
That impressive fuel economy figure isn't just the result of the new engine — a suite of new pieces have been developed in order to maximize performance, including a revised air intake, a pair of new six-speed transmissions (both automatic and manual), electric power steering, and even some aerodynamic tidying, including a revised front fascia, deeper front air dam, rear-wheel tire spats, different underbody shields, and a new rear decklid seal.
The Heart Transplant
Despite those incremental improvements, the centerpiece of the 2011 Mustang is obviously the 24-valve Duratec V6, and it includes Twin Independent Variable Camshaft Timing (Ti-VCT) and polished buckets and roller finger followers in the direct-acting mechanical bucket valvetrain, among other features. Ford officials promise that V6 buyers won't miss the roar of the V8's extra cylinders thanks to a retuned air intake and throaty standard dual exhaust. At the sneak-peek event for this new Mustang motor, Autoblog had the chance to hear the new engine fire up and rev — and it indeed sounds sporty and purposeful. To be fair, however, we only heard the powertrain briefly in an enclosed space (a large development garage on Ford's Dearborn campus), so we'll have to wait until it's out in the open and we're behind the wheel to really get a feel for the 3.7's aural character. Other noteworthy features of the drivetrain include a deep-sump aluminum oil pan that enables less-frequent 10,000-mile oil change intervals and a 7,000-RPM redline.
On the transmission front, Ford has fitted a new six-speed 6R60 automatic with hill-start assist that allows for the 30 MPG highway bogey, as well as 19 MPG in the urban cycle (a 25 percent improvement over the 2010's 16 mpg city / 24 mpg highway figures). Prefer to shift for yourself? Expect fuel economy to suffer an iota for your enjoyment, with numbers for the six-speed manual falling to 18/29 (2010 MY: 18/26).
Naturally, with an all-new powertrain and its differing weight properties, Ford's engineers also had to turn their attention to the suspension. To that end, the 2011 V6 gets new damper and spring rates, a different rear lower control arm, and stiffer stabilizer bar bushings.
A More Electrifying Steer?
We always get a bit nervous when vehicles move to electronic power steering. Such systems may improve performance by lowering parasitic drag on the engine, but they rarely do any favors for steering feel. Ford assures us that they've worked hard to build a robust "feedback loop" into the system, but again, we'll have to wait and see for ourselves. In the meantime, we'll remain curious about how effective Ford's so-called Pull-Drift Compensation system is at accounting for road crowns and crosswinds, not to mention the amusingly named Active Nibble Control, which apparently helps to exorcise high-speed vibrations caused by wheel balance issues and warped brake rotors. And about those brakes — they're bigger. 11.5-inches in front and 11.8-inchers out back have been borrowed from the GT's parts bin, and there's also a standard limited-slip differential to help get the V6 model's newfound power to the ground.
2011 Ford Mustang
In Pictures: 2011 Ford Mustang
The Performance Model
What V6 Mustang are we most eager to drive? The new Performance Package model, which is scheduled to go on sale next August, as it promises to provide increased grip and go. For starters, the Perf Pack borrows the uprated front struts and rear shocks/springs from the V8 GT model, along with its thicker front and rear anti-roll bars and the rear lower control arms from the Shelby GT500. Also included is a 3.31 axle ratio for better acceleration, model-specific 19-inch alloys wrapped in Pirelli summer rubber, more lenient stability control programming with a dedicated sport mode, as well as a strut tower brace and the usual assortment of badges.
How will street spotters identify the new V6 Mustang? If the dual exhaust isn't enough of a tip-off, you'll probably have to check the glass. For 2011, all Mustangs get nifty integrated blind-spot mirrors — and if you peek inside the driver's side window, you might catch a glimpse of the new-look instrument cluster which features a 160 MPH speedo and an 8,000-RPM tach.
How Much — and What's Next?
Ford has yet to release any performance estimates or pricing, but despite the big jump in power and content, we don't expect pricing to increase dramatically. Given that the augmented V6 nearly shades the current 4.6-liter V8's horsepower figure (and the fact that the latter engine is comprehensively outgunned by the Camaro SS' 6.2-liter engine's 426 hp and 420 pound-feet of torque, it's no surprise that a new V8 engine is rumored, and we fully expect to see it before this domestic auto show season is out.
The takeaway from all of this? For those who thought that the rekindled pony car wars reached a fever pitch this year with the advent of the refreshed Mustang, long-awaited Camaro and still-warm Dodge Challenger, well … we ain't seen nothin' yet.