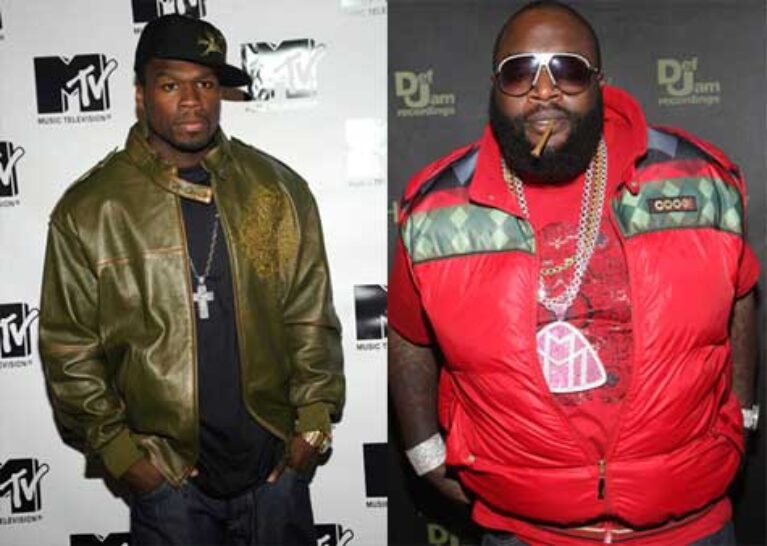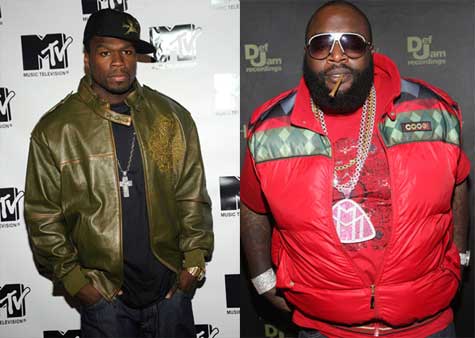 If you're anything like me, you're probably tired of this whole 50 Cent's beef with Rick Ross and vice versa mess… but… on the other hand, we all love a little messiness here and there, thus my reasoning for posting the latest update on this ongoing feud. Now that 50 Cent's latest album "Before I Self Destruct" is officially a flop, our favorite heavy weight rapper Rick Ross is taking full credit for it all.
Recently at a concert for DJ Khaled's birthday, while on stage, Rick told the crowd:
"So we celebrating my n***a birthday, but we're also celebrating the demise of a p***y. R.I.P. to the donkey, we buried him," Ross stated on stage with Khaled. "It feel good, n***a. Don't look surprised, you knew we was gonna do it. There's only one record that can describe the feeling."
This latest album from 50 made the worst opening debut in the rappers career by selling a dismal 161,000 in its first week. His first album, "Get Rich or Die Tryin" sold an unprecedented 872,000 copies in it's first week which was immediately followed in its second week with the same numbers as the first week. 
As cocky as we know Ricky Ross to be, he ended his little schpeel by having Khaled play "This Is the Life," adding more fuel to the fire. 
This all started back in the early part of this year when Rick Ross took to the mic dissing 50 on "Mafia Music" by teasing the Queens rapper in regards to his relationship with his son's mother Shaniqua Tompkins and that all too suspicious fire at the home she and their son were residing in at the time.
50 came back with "I'll Be the Shooter", viral videos mocking Ross and his status as a correctional officer, satirical cartoons, and to put the nail in the coffin… 50 befriended Rick's baby mama Tia Kemp and has been seen all over in pictures, on magazine covers, and even brokering a book deal for Tia. 
Since the numbers have come out on the album sales of "Before I Self Destruct", 50 has been heard on various media outlets laying blame squarely at the steps of early internet leaks. He even went to the lengths of attempting to ensure more sales by pushing up the release date by a week but to no avail, it did nothing to help.
50 appeared on air with DJ Green Lantern and spoke on the album sales saying, "For myself, I'm asking myself, 'What did you expect, bro? Your fans got it when it was available, at the first available opportunity,' " 50 Cent said in the interview earlier this week. "For me this album is a prequel — it's full circle. When the energy around a project is the way this is, you can't really feel like it's a failure. Like, I look at the numbers and am like, 'What is this?' he continued, "I've already assessed that the album has been out a month before its actual release period [due to an online leak, and the album's early digital release due to the leak]. So when you got that, you go, 'Well, what did you actually expect?'.