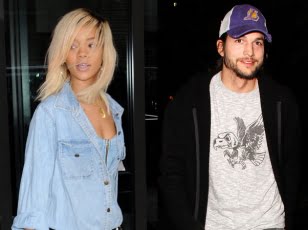 In a classic case of is it truth or is it trash, Rihanna and Two and a Half Men star Ashton Kutcher could be dating…. Details are very sketchy, as most of the information regarding the possible interlude is coming from posts on Twitter. And of course, if it is on Twitter, it must be true, right?
Well, Rihanna herself is only helping to fuel the speculation, as she refused to give reporters a direct answer in the U.K. Rihanna is in the British Isle promoting the release of her first film role; that of Petty Officer Second Class Cora Raikes in the upcoming feature Battleship. When asked about her and Kutcher dating, she simply dismissed the question as "disappointing".
Rumors of possible romance started circulating before her leaving for London, as she was supposedly seen visiting the Kutcher house in Los Angeles, and the ever present paparazzi have the pics to prove it. Rihanna showed up around midnight on March 21st, and didn't leave until about 4 am.
Whether this turns out to be truth, trash, or a half baked publicity stunt, both sides are being very closed lipped about it. Kutcher has yet to be questioned on why Rihanna stopped by, much less the hours involved. This much is known, though… Ex Chris Brown has jumped into the fray, offering up his own sad attempt to stay relevant, comparing himself to the man in the Van Gogh painting Eternity's Gate. Yeah. Whatever.