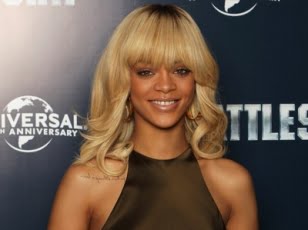 Rihanna has been celebrity news quite a bit in the last couple of years for many different reasons. First, it was her career that took off with the single "Pon de Replay", which catapulted her into super stardom. Then she began dating Chris Brown, a relationship that only lasted a short while but that had a huge impact on both of their careers. Now, with Rihanna setting her sights on Hollywood as well as the music industry, she is making celebrity news once again.
Rihanna is set to star in the new movie Battleship based on the original Hasbro game for children. Rihanna, as Petty Officer Cora Raikes, is in the film alongside stars Liam Neeson, Brooklyn Decker, Alexander Skarsgard, and Taylor Kitsch. Battleship looks like it will be another blockbuster the likes of Transformers.
But the young singer has also been in celebrity news for something non-career related. She has recently been linked to Ashton Kutcher. As the reports go, Rihanna was seen entering Ashton Kutcher's around midnight on March 22 and then leaving about 4 in the morning. One report in London where Rihanna was doing interviews confronted the young star about the relationship. Rihanna was quick to put an end to the rumors; she is most definitely single and not seeing Ashton.