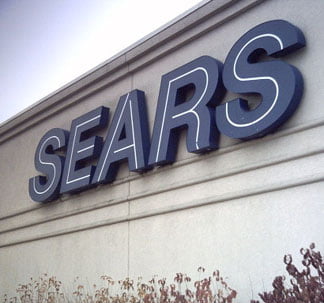 Sears Holdings (SHLD) plans to close eight Sears stores and 13 Kmart stores in April and May, laying off hundreds of employees in the process.
Kimberly Freely, a spokeswoman for Sears Holdings, says the affected stores are located across the country and employ about 60 employees each. Many of the closings involve lease renewals, "but obviously performance is a factor," she says. "This is the normal course of business," Freely says. "We always evaluate our store portfolio."
Both Sears and Kmart are getting squeezed by aggressive competition during a time when shoppers are reluctant to open their wallets. Sears is up against two strong midprice department store rivals, JC Penney (JCP) and Kohl's (KSS), while Kmart is fighting off Wal-Mart Stores (WMT) and Target (TGT). Among the planned closings are four Sears Essentials stores, which had been the company's attempt to expand into big-box retail.
Department stores across the board have suffered during the recession, but Sears has felt more pain than most. If comments on this site are any indication, shoppers just don't seem to like the store experience. Sears has been trying to improve that experience, adding toy departments and redesigning the beauty departments with new displays and exclusive merchandise. Nevertheless, Sears same-store sales (sales among stores that have been open at least a year) were down 4.8% during the all-important holiday shopping period. Kmart fared better, netting a 5.3% increase in same-store sales over the holidays.
Getting Creative With In-House Brands
Despite slowing sales, Sears and Kmart still have a number of brands that are popular with shoppers. Parent company Sears Holdings has been trying to find new ways to capitalize on those brands, making deals to carry them outside its own stores. Over the past month, it has announced deals to franchise its Sears Auto Centers, license the Diehard name for a line of battery accessories to be sold at stores nationwide, and sell Craftsman tools at Ace Hardware stores beginning in May.
In January, the company provided a glimmer of hope when it raised its profit forecast for the year due to the better-than-expected sales at Kmart. But for the full year, sales at Sears stores are still likely to be lower, while Kmart sales are expected to come in flat.
Sears Holdings will report its year-end results tomorrow, and management has forecast that it will show profits in the fourth quarter, after two straight quarters of losses. Management told investors earnings will come in between $3.36 and $4.06 per share for the fourth quarter and between $1.61 and $2.29 per share for the year. Analysts expect of $3.54 for the fourth quarter, up 20.4% from the year-ago period, according to Thomson Reuters.