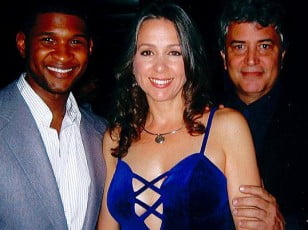 Cliff Lovette's days of riding in a limousine to the Grammy Awards or hopping on a private jet with record company executive Antonio "L.A." Reid are behind him. Way behind him.
The Atlanta entertainment attorney has suffered a series of financial setbacks — seeing high-profile clients leave him, and struggling through a recession in the record business as well as a recent divorce.
For the past few months, the former senior vice president of an Atlanta record company has been collecting government food stamps and buying bulk food from the charity agency Angel Food Ministries. His two children are on Medicaid, the government health insurance program.
"I know there is a stigma attached to these programs," Lovette said. "I don't buy that stigma."
Lovette feels he has paid his taxes for years, and now it is his turn to receive a helping hand. Moreover, he's seen Wall Street firms and automakers receive government bailouts and assistance. Why not him?
"I don't see this as a failure," he said. "I'm figuring out how to keep food in my kids' stomachs."
Lovette's situation reflects a growing trend in this hard economy: the soaring number of Georgians receiving food stamps and Medicaid, many of whom never sought public assistance before. Social service experts say people are less wary of applying for such help — that some services that were once scorned as "welfare" have lost much of their stigma.
"This recession — more than any economic downturn since the '30s — has affected people who were secure middle-class and upper middle-class folk," said Alan Essig, executive director of the Georgia Budget and Policy Institute. "These are people who previously would not think of being on a program."
The government itself helped ease the stigma, particularly on food stamps. Officials in recent years have made it easier to apply for benefits. They also changed the name of the federal program to Supplemental Nutritional Assistance Program and replaced the conspicuous paper stamps with a plastic benefits card.
The stigma has diminished as the need has grown, Essig said. For many people laid low by the recession, the issue comes down to finding a way to ensure their children continue to eat good meals.
"It's one of the ways of being a responsible parent," Essig said.
Lovette is by no means the average food stamp recipient, but his very presence on the rolls reveals the depth of damage to people's lives during this long economic downturn.
The 54-year-old lives in the same home in the Morningside area of Atlanta he bought 17 years ago, just before he married. He is still driving his 1999 Volvo convertible.
At the top of his game, Lovette served as senior vice president for business and legal affairs for LaFace Records, an Atlanta record company started by now-famous producers Reid and Kenneth "Babyface" Edmonds. During several years in the mid-1990s, he negotiated record deals with Grammy award-winning producers and big-selling artists such as Usher, Pink and Toni Braxton.
He left just before LaFace was absorbed by its parent company and was moved to New York. He started his own entertainment legal firm with a Buckhead address, which expanded to employ two other lawyers. He represented Lisa "Left Eye" Lopes and Usher. For a few years, he earned upwards of $250,000 annually.
But the record industry was hit hard by the advent of digital media and music that could be downloaded with a computer. CD sales plummeted as free music file-sharing grew. Lucrative contracts diminished, leaving him less and less of a financial cut.
Lopes died in 2002 in a car crash in Honduras. Usher replaced much of his management team, including Lovette, about five years ago. As financial pressures mounted in the industry, Lovette said, large entertainment law firms from New York and Los Angeles came to Atlanta and made off with some of his clients, offering them deals he could not match.
By 2009, he had closed his Buckhead practice and became a sole practitioner in the basement of his home. He also started to eat through his savings.
Then came the divorce. He agreed to pay his wife in order to retain the house. They split custody of the two children. But late last year his wife headed back to her hometown in Ohio because her father was dying. That left him to care for both kids, which cut into the time he could spend conducting business.
For the first time in his life, he missed a mortgage payment. His savings and investments, at one time worth several hundred thousand dollars, were almost gone. His credit card debt grew to $16,000. By February of this year, he realized he was having trouble putting food on the table. For the past three months, he has earned about $1,500 a month, he said.
Thus the food stamps, which are among the most accessible of government assistance programs.
To qualify, a household without an elderly or disabled member can have a gross income of no more than 130 percent of the federal poverty level. The gross income limits cannot exceed $1,984 per month for a family of three. Most people in Georgia who are eligible for food stamps do not have any asset limitations.
Now Lovette receives $329 a month. He shops with a plastic card — green with two peaches on it — so it's not obvious that he is using public assistance.
More people are seeing similar economic collapses. Real estate brokers. Veteran teachers. Georgia does not track how many public assistance recipients are first-timers, but the counselors who work with people in dire straits say they've seen the change. Georgia saw 156,777 more food stamp cases between December 2008 and December 2009 — a 32 percent jump to a total of 650,005 cases.
Lovette sees his current financial condition as a challenge. Even as he continues to scramble for work, he is using his smarts to obtain further assistance. He found a nonprofit that helped him fix a broken sewer pipe running into his home. That was $5,000 worth of work done for free.
For his children, Lovette wants this experience to be a life lesson.
"I want them to understand that you have these struggles," he said, "and you get through. They don't have to bring you down."
Ajc