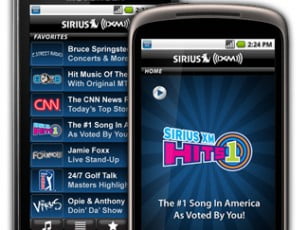 The streaming radio pool is booming on Android, and Sirius is ready to take a cannonball dive right into the middle of it all. Today, Sirius announced that they'd be bringing an app to the Android market to supplement their subscription service. The app itself is free, and users will get to check the service out with a free 7-day trial that comes with the installation.
The press release – and the Android information sign-up site – says it'll be coming to "Android-powered smartphones", however they keep mentioning the Motorola Droid and Google Nexus One, specifically. I'm not sure if this means it's exclusive to Android 2.1, exclusive to just those phones, or if those of us on older firmware versions will be able to experience the love, too.
Alluding to that confusion, they mention that those phones would be getting exclusive Sports and Entertainment talk show channels, as well. We've contacted Sirius to get some clarification on all of this. In any case, it looks like streaming radio on Android comes to no end with all of the options available.
Are any of you guys Sirius subscribers? If not, are you planning on taking advantage of the free 7-day trial to check out their service and app? Let us know in the comments. If you are a Sirius subscriber wanting details on what you can use on your phone – or would like to help make sense of who will be able to use what – check the press release out for yourself.
Soruce: phandroid