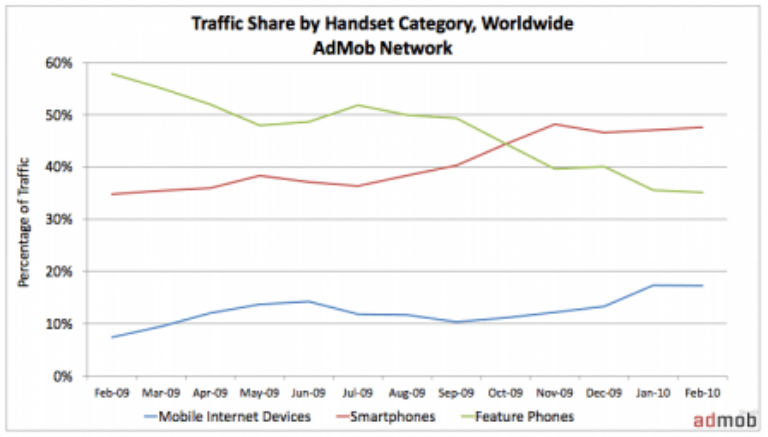 Led by iPhone and the Androids. Traffic from the iPod touch is growing even faster.
Smartphone traffic is up. Feature phone share is down. And traffic from mobile Internet devices (like the iPod touch) that don't have built-in phones is booming — even before Apple releases the iPad.
That's the thrust of the the latest report by AdMob, the mobile advertising network snapped up last fall by Google (GOOG) before Apple (AAPL) could buy it.
In this month's report, AdMob compares February 2009 with February 2010 in the three categories of mobile devices it serves. The bottom line:
* Smartphones (like the iPhone): Up 193% year over year in absolute terms as their share of AdMob's traffic in an expanding market grew from 35% to 48%
* Feature phones (like most Samsung, Nokia and LG phones): Up 31% in absolute terms as the mobile Internet space expanded. But their share of AdMob's traffic fell from 58% to 35%
* Mobile Internet devices (chiefly the iPod touch, but also connected game systems like the Sony PSP and Nintendo DSi): Up 403% in absolute terms as their traffic share grew from about 7% to 17%.
The pie chart at right is a snapshot of the smartphone traffic in Feb. 2010 broken down by operating system. Apple's iPhone still has the largest share of AdMob traffic, having grown from 33% to 50% year over year, but the Android phones are gaining fast, up from 2% to 24%. Nokia's (NOK) Symbian, once the world's smartphone leader, continued to lose ground, from 43% to 18%.
Research in Motion's (RIMM) BlackBerry and Microsoft's (MSFT) Windows Mobile are thin slivers in AdMob's pie, not much bigger than "Other."
The usual caveats apply. Although AdMob serves up billions of annoying mobile ads each month, they are not evenly distributed among the platforms. As the small print at the bottom of the report puts it:
"AdMob does not claim that this information will be necessarily representative of the mobile Web as a whole or of any particular country-market. AdMob's traffic is driven by publisher relationships and may be influenced accordingly."